So let's file this under, "technically I could have bought these from the frozen section, but what fun would that be?"
Because honestly. What fun would that be?
Seriously though. There are a few good reasons to make your own cauliflower tots.
If you like a specific flavor to them. (For example, I like a little heat in mine).
If you like mix-ins. (Bacon cauli-tot? Anyone? Bueller?)
Or, such as the case was for me, you are in the middle of a snowstorm, you're craving tater tots, you've given up all forms of potatoes (and other starches) for Lent and you don't happen to have storebought frozen cauliflower tots.
See? Totally legit endeavor.
Anyhoo. As we know, cauliflower can act as a sub for a multitude of carb situations from rice to potatoes to pizza crust. The key to making cauli-anything, of course, is this. CONTROL THE MOISTURE. (Imagine me saying that with all the dramatic emphasis of that soothsayer in Julius Caesar who is all, "Beware the Ides of March!" Yes…it's that deep.)
Water is your nemesis when it comes to using cauliflower as a carb swap. So lets just take a moment to go over the methodology I used.
First, I used frozen cauliflower. You can certainly use fresh. If you do, steam it first. Here's what I do from there:
Place steamed/drained cauliflower florets into my food processor and puree.
Place pureed cauliflower in a sieve or inside some cheesecloth and strain out as much of the water as you possibly can.
There's still water in there. Make no mistake. But get as much of it as you can!
From there, it's a pretty simple process. I usually add my spices to my cauliflower at this point (I add them before I add egg so that I can taste test the mixture because salmonella = no fun). From there, I crack an egg in that sucker. (Use Egg Beaters if you don't want all the calories of an egg. As I always say, cook your conscience!)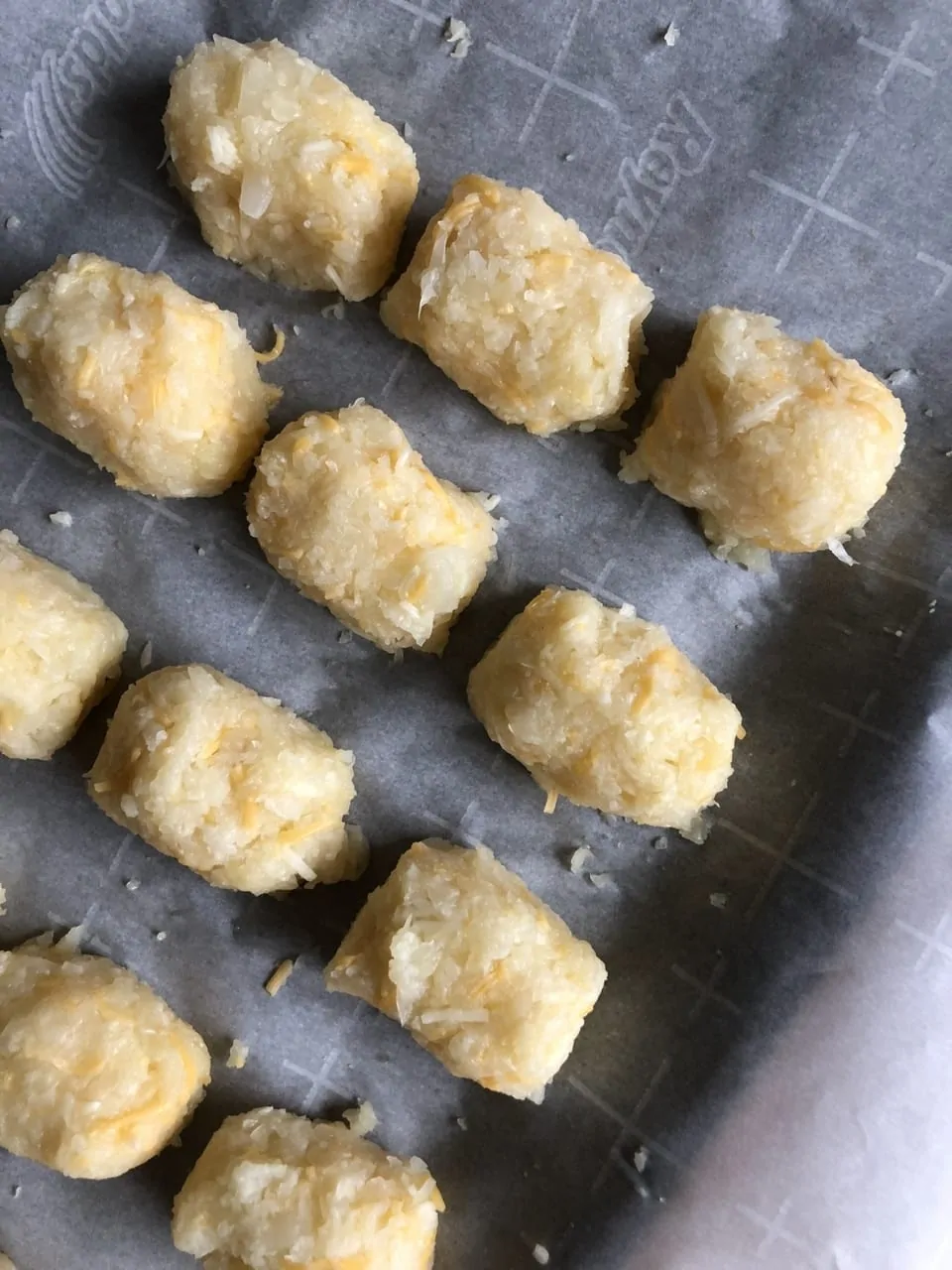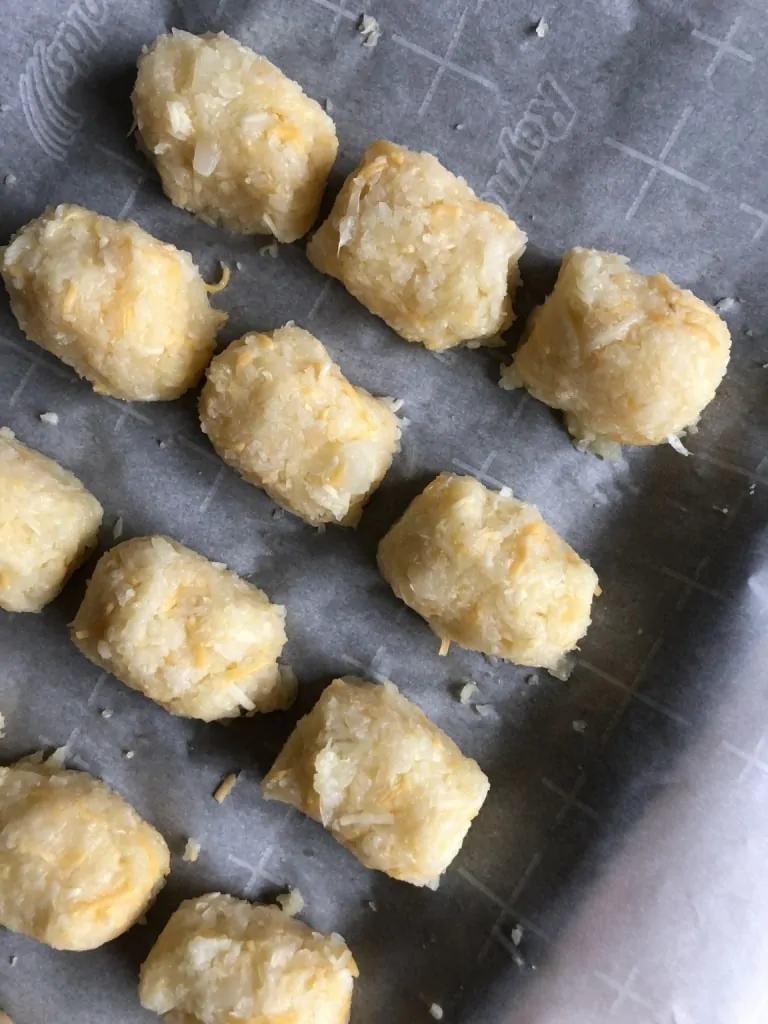 Next is by far the most tedious part in the process to me. I make my tots with a melon baller. Essentially I scoop up a bit of the cauliflower mixture, place it in the palm of my hand, and form it into a roughtly cylindrical shape. Then I place it on a parchment lined cookie sheet. Once they are all done, into a 425 degree oven they go!
That's one other important note. Whenever you are faux frying something (anything) you need heat. Don't be afraid of temps above 425 for oven frying! In this case, the heat is helping in several ways: it evaporates that leftover water (which I bet you will see and feel as you mold your tots) and it ensures a nice, crisp, brown outside.
But for goodness sakes, don't forget to flip them! Now cook time may vary (for mine, I cooked them 20 minutes), but you need to flip them halfway through or one side will be brown (or even burnt) and one side will be super light. Not a good look.
From there, your biggest decision is what to use for dip. In these photos I opted for some low-fat ranch dressing. But maybe you're a ketchup person? Or perhaps if you do the bacon-chedder cauli-tot (seriously…someone make that and invite me over!) you may opt to dip in some unflavored Greek yogurt flavored with onion powder and chives (mmmmmm).
Whatever you decide, make sure it elevates your tots!
Now, before I leave you to blissful tot-making I want to answer a few questions I imagine you might have:
Yes, you can freeze these. I'd advise you to freeze the uncooked tots on a plate or cookie sheet, before adding to a freezer bag. And make sure to press out ALL the air! Freezer burn does not taste good.
Yes, you can add protein powder to the tots. Unflavored, of course. (I hope.) I'd suggest no more than one scoop for this recipe. If you do that, add it to your cauliflower mixture after you've strained the water out. Just make sure your cauliflower is cooled down so the protein powder doesn't cook. Then proceed with the rest of the recipe. Be advised this may alter your cook time (protein powder makes things cook faster) and the taste (because no matter how many times they say unflavored…it actually does kinda have a flavor!)
As always, no I'm not giving you the nutrition information for this recipe. Nor do I for any of my recipes. You are capable of figuring this out yourself with the information given. I believe in you!
Who needs potatoes when you can have warm, crispy, yummy cauliflower tots! These are so easy to make and the flavor possibilities are endless!
Servings

Prep Time

18

large tots

15

minutes
Servings

Prep Time

18

large tots

15

minutes
Who needs potatoes when you can have warm, crispy, yummy cauliflower tots! These are so easy to make and the flavor possibilities are endless!

Servings

Prep Time

18

large tots

15

minutes

Servings

Prep Time

18

large tots

15

minutes
Preheat oven to 425 degrees.

After cooking and draining cauliflower florets, pulse in a food processor until fully pureed. Use a cheese cloth or a sieve to strain out the excess liquid (of which there should be much). Once cauliflower is strained of water, empty into a bowl.

Add in spices and mix thoroughly.

Add egg and cheese and mix until thoroughly combined.

Line a cookie sheet with parchment paper. Using a melon baller or small scoop, portion out mixture into the palm of your hand and shape into a cylinder. Gently place each tot on the baking sheet.

Bake for 20 minutes, flipping halfway through.