The Bariatric Foodie Holiday Survival Guide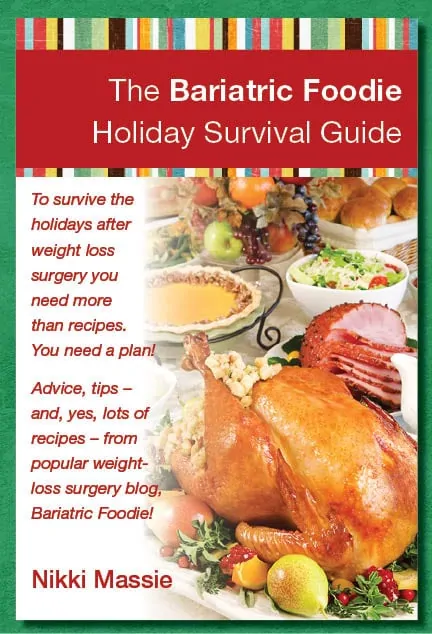 "Why must every holiday be centered on food and eating?"
That's a common question after weight loss surgery. And I get it. I'm so grateful for my weight loss surgery that's allowed me maintain a 130 lb. weight loss! But I won't lie: sometimes it's hard being in the middle of holiday celebrations and being unable to eat.
Can you relate?
That was the motivation behind writing The Bariatric Foodie Holiday Survival Guide. This is not just a recipe book (although it is, in part, a recipe book!), it's also a guide to getting through the holidays.
In it we take on challenges like:
Making sure your weight loss is not the main discussion topic at a holiday gathering. (Unless you want it to be!)
How to politely (and firmly) turn down Grandma's famous pie.
How to respond to those crazy questions and comments you get about your weight loss at family gatherings.
How to make sure you always have something you can eat at a holiday party.
It's all there for you, along with lots of recipes for holiday favorites. And I've got the biggest holiday foods covered: Thanksgiving, Hanukkah, Christmas – it's all in there!
This holiday season, you could go it alone. Or you can have the full power of the Foodie Nation behind you. Invest in your own sanity this holiday season – and learn to play with your food!