Indulge me a short manifesto.
Every year (late-August, to be exact) the same thing happens. I innocently log onto my Facebook feed and see that my friends have started to "pumpkin all the things!"
And frankly, it's all a bit ridiculous to me. Like the other day I saw a pumpkin spice flavored chicken sausage. Like…really?
I'm not going to pass judgment. Maybe it was good. Maybe all the other things (the cookies, candy, muffins, breads, candles, Febreeze, and whatever else) are all good. But here's what it boils down to for me.
Pumpkin = Fall. Pumpkining before fall is bad. Why? Because it takes the specialness (is that a real word?) away from fall and away from pumpkin. That's just my humble opinion.
But don't mind me! Slurp your pumpkin spice lattes in still 90-degree weather. I will sit here dying just a little bit inside because of it. But don't let me stop you…
Anyhoo…if you are seeing this recipe unearthed it's because Baltimore, Maryland (otherwise known as my hometown) has experienced its first blast of cooler weather and I feel comfortable saying we are moving into fall and therefore can begin pumpkining some of the things.
The below recipe is great because it amps up the protein (by way of a high-protein/low-carb baking mix), doesn't add any sugar and combines all the rest of the stuff you associate with pumpkin bread goodness. Plus they are mini-loaves. Wrap them, tight, freeze them, and you've got pumpkin bread for now, pumpkin bread for later.
You're welcome.
A few recipe notes:
A word on my "flour of choice." There are lots of higher protein/low-carb flours on the market, including: Big Train Low-Carb Pancake & Waffle Mix or Quest Multi-Purpose protein powder (both of which are enhanced protein and low-carb), and Carbquik (which is low carb but not enhanced protein. For those who own a copy of the Bariatric Foodie Breakfast Book, I also have a a recipe to make your own high/protein low-carb baking mix. Check it out!
If you don't want to find high-protein/low-carb baking mix you can also 1/2 c. of yo9ur favorite vanilla or unsweetened protein powder (here's what I recommend) to the wet mixture and it will still bake up into a nice bread. Watch your oven, though, as protein cooks very fast!
And finally, yes, I recognize that I have not given you nutrition information, nor will I! Here's why if you're interested.
However…if you'd like more fall/holiday recipe ideas…you've GOT to check out The Bariatric Foodie Holiday Survival Guide! This isn't just a recipe book. It's your manual for getting through the holidays after weight loss surgery. It features not only healthier versions of your holiday favorites (including a special section on kosher holiday recipes!) but it also tells you how NOT to strangle your obnoxious cousin who keeps asking, "are you supposed to eat that?" (Because needing bail money tends to mess up your holiday budget).
Get your copy today!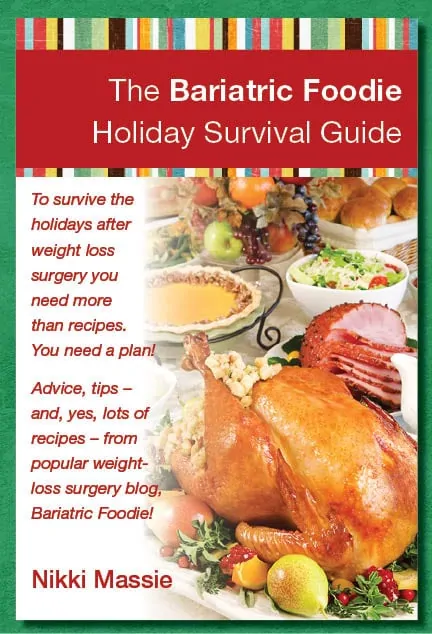 Pre-heat your oven to 350 degrees.

In a large mixing bowl, combine pumpkin, sweetener, syrup and butter with a hand mixer on medium speed until completely combined. Add eggs, one at a time, making sure the first is completely mixed in before adding the second. Add the vanilla and pumpkin pie spice and mix again.

Sift the pancake and waffle mix, baking soda and salt directly into the pumpkin mixture and then mix on medium speed until thoroughly combined.

Spray a mini-loaf pan with non-stick cooking spray made for baking (it will have a bit of flour in it) OR grease your pan. You may also use a full-sized loaf pan or a cupcake pan if you don't have a mini-loaf pan. Pour equal amounts of the batter into each slot, then tap the pan against the counter to ensure batter is distributed and to remove any air pockets.

Bake at 350 for about 20-25 minutes or until a toothpick inserted comes out with a moist crumb. Transfer pan to a cooling rack and cool thoroughly before removing mini-loaves. Wrap each loaf individually and refrigerate until ready to eat. These do freeze well but, again, wrap them individually and well.