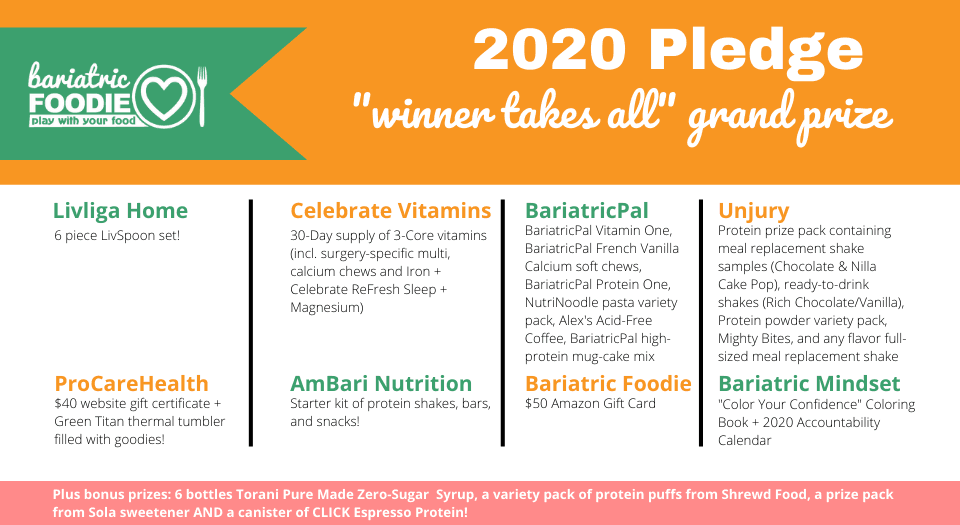 Here it is, folks…in all its glory. The 2020 Bariatric Foodie Pledge "Winner Takes All" Grand Prize!!!
This prize is open to folks who participated in the Bariatric Foodie Pledge who successfully submitted a pledge at the beginning of each week and a check-in at the end of each week. Right now, as we speak (erm…read), those folks are taking part in the Grand Prize competition. (Btw, if you are eligible and you haven't started the competition yet, hop to it! Log onto your Pledge Dashboard and follow the instructions there. There are time sensitive tasks you have to do!)
Here are all the items in the Grand Prize.
A six-piece LivSpoon set from week 1 sponsor, Livliga!
A $40 website gift certificate + a Green Titan thermal tumbler filled with goodies from week 2 sponsor ProCare Health!
A 30-Day supply of 3-Core vitamins (incl. surgery specific multi, calcium chews, Iron and Celebrate ReFresh Sleep + Magnesium) from week 2 sponsor Celebrate Vitamins!
A starter kit of protein shakes, bars and snacks from week 2 sponsor, AmBari Nutrition!
A MEGA-prize pack that includes BariatricPal Vitamin One, BariatricPal French Vanilla Calcium soft chews, BariatricPal Protein One, NutriNoodles, Alex's Acid-Free Coffee and BariatricPal high-protein mug-cake mix from week 3 sponsor, BariatricPal!
A $50 Amazon gift card from week 3 sponsor, Bariatric Foodie!
A protein prize pack containing ready-to-drink protein shakes and samples from week 4 sponsor, Unjury!
A "Color Your Confidence Coloring Book + 2020 Accountability Calendar from week 4 sponsor, Bariatric Mindset!
And, if you saw my communications recently, you know that the 2020 Bariatric Foodie Pledge is the final Pledge. We're moving on to bigger and better things! In honor of the very last "Winner Takes All" Grand Prize, a few past sponsors offered up prizes for the Grand Prize, including:
This year's "Winner Takes All" Grand Prize package has an EYE POPPING retail value of $700! (Go ahead…gasp. I'm gasping too!)
Good luck to the Grand Prize Pledgers! The winner of the Grand Prize will be announced on Monday, March 2 via social media, email and on the Bariatric Foodie Pledge Prize Winner List page.