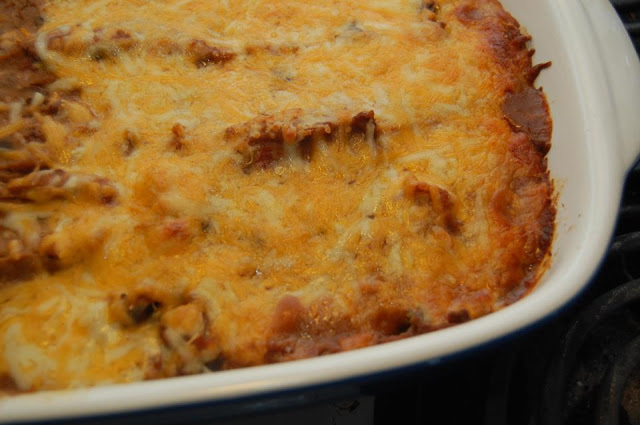 Taco Casserole is the most downloaded recipe on Bariatric Foodie. It's not hard to understand why!
This recipe is:
Easy to make
Easy to customize
Freezes beautifully
Weight loss surgery friendly
Kid-friendly
It also has a lot of possibilities with toppings. A few things I've used:
Unflavored Greek yogurt as sour cream
Sliced olives
Pickled jalapeno peppers
I invite you to give it a try, but also to make it your own! Don't like some of my ingredients? Replace them with your own. That's what playing with your food is all about, after all!
Preheat oven to 350 degrees

Spray a pan with non-stick cooking spray, set it over medium heat and allow it to get hot. saute veggies with garlic until they are softened. Drain any excess liquid and transfer to a bowl.

Brown ground meat, drain and then transfer to the same bowl and mix with canned beans and tomatoes and chiles.

Mix in taco seasoning thoroughly and then transfer mixture to a 13x9 casserole dish.

Evenly spread out fat free refried beans on top (this may be easier if you heat them in a microwave safe bowl for a minute or so.

Top with cheese and then bake in a 350 oven for about 30 minutes or until the cheese is oozy, melty and slightly browned.

Cool 10-15 minutes before slicing and serving.