I would just like to note that this recipe was developed before the food industry decided to "pumpkin all the things" (as Shannon, your friendly neighborhood BF Facebook manager likes to say).
I mean honestly! I went to the grocery store the other day and they had an entire wall of pumpkin products. Pumpkin cookies, pumpkin bread, pumpkin beverages, pumpkin candles, pumpkin everything! I mean…I love pumpkin as much as the next person, but frankly it was a bit ridiculous.
You know what isn't ridiculous? This chili! Well…it's ridiculously good. But that's about it.
Backstory: In 2012 I attended the Fitbloggin' Conference (a gathering of bloggers who focus on fitness) for the first time. It was here in Baltimore where I live. As a pre-conference event they offered a tour of the McCormick spice factory. Oh. Em. Gee. That was one of the best foodie experiences of my life!
As a part of the festivities we got to watch food demos, participate in food focus groups (Including a neat one where I learned that the best way to lower the salt in your dishes without compromising flavor is to use finer ground salt. The smaller the salt crystal, the easier it is absorbed into the taste bud and the less you have to use!), and we were sent home with some serious swag, including a ton of spices. What you see below is Saigon Cinnamon (no idea what that means, by the way), which is what I used in this chili.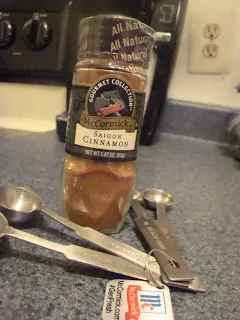 Armed with this inspiration and a new stash of spices to play with, I set out to remake a family favorite: chili. This remains one of my favorite chili variations of all time. LPD (my youngest daughter) loves it too. As for LGD (La Grande Diva, the elder child)…well…she resolutely refuses to accept pumpkin in chili and thus is invited to make her own dinner on nights when I make this! (Before you feel too sorry for her, she's 16 and a half…).
Oh well…her loss, our gain! Enjoy.
 Spray a pot generously with nonstick cooking spray (or with a teaspoon of the oil of your choice), set it over medium heat and allow it to get hot before adding onions and sauteeing until softened (about 2 minutes). Add garlic and sautee another minute or so.

Add ground meat and cook until done through. Add all beans and stir completely.

Add soup, pumpkin and spices and stir again. Allow it to come to a boil.

Reduce heat, cover and simmer about 30 minutes (this recipe is an especially good "next day" recipe so consider making it the night before).