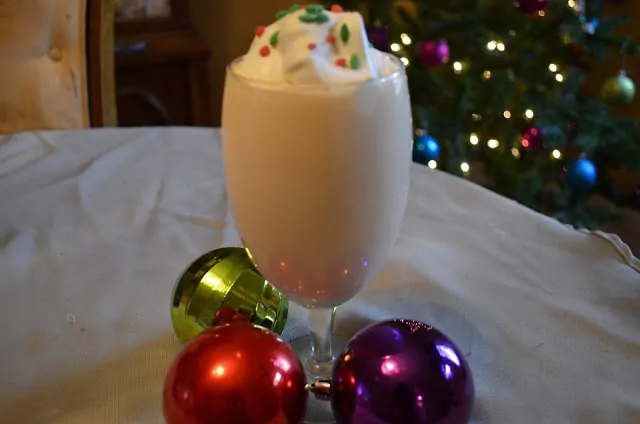 I know, I know…there's nothing like a cookie.
It's true! Especially a Christmas cookie. Oh, sweet confection!
But we're living differently these days and although we have options for cookies (check out, for example, my flourless coconut macaroons or my No-Flour Almond Butter Cookies), sometimes you just want something a little festive. Right? (Say right.)
This is one of two protein drinks in my special holiday arsenal. The other is my Protein Egg Nog. It's so yummy! This one was originally created for something I did way, way, way back when called a Holiday Survival Kit. Basically it was two holiday-themed protein shake sample packs (everything you needed to make a holiday themed shake except the liquid). I stopped doing those a few years back because…well…the FDA doesn't take kindly to people setting up food manufacturing plants out of their kitchen, so there was only so many of them I could sell and the demand got way higher than the supply and…well, I am not cut out to be a die-hard capitalist, ok??? It was getting to the point where I either had to charge a gamillion bucks per kit or find some other way to servet he entire Foodie Nation during the holidays.
I chose the latter. Don't be mad.
Especially because the result was that I devoted more time to holiday recipes here on the website and I was able to publish the very best of those recipes in The Bariatric Foodie Holiday Survival Guide. So while it was a great thing to receive a little kit full of love from Bariatric Foodie, I feel like this system is way more equitable.
Anywho. I digress.
This shake is great fun because it can be made hot or cold and it really does remind you of a Christmas cookie, especially if you manage to get your hands on some sugar-free holiday sprinkles (I got mine at the craft store, but search Google…you can find them!).
Because honestly? Just because you have weight loss surgery doesn't mean you don't like festive treats during the holidays. It just means those festive treats have to be beneficial. Give this treat a try and tell me what you think!
Recipe notes:
This recipe suggests using one of two kinds of specialty syrup: Torani Sugar-Free Brown Sugar Cinnamon or Torani Sugar-free Cookie Dough flavored syrup. In the absence of either, you can use just a tiny bit of sugar-free pancake syrup (like a teaspoon…which has virtually no calories or carbs thankyouverymuch) along with a tiny dash of cinnamon.
If making cold: Combine ingredients in a blender and mix for about a minute, until smooth and creamy. Add ice then blend again until smooth.

If making hot: Combine dry ingredients with about an ounce of room milk in a mug. Stir well, making sure to remove all the lumps. Once the lumps are all removed, stir in the rest of the milk and microwave in 30 second increments until it reaches your desired temperature.

Top with whipped cream, if desired, and any deco. Then SLURP!