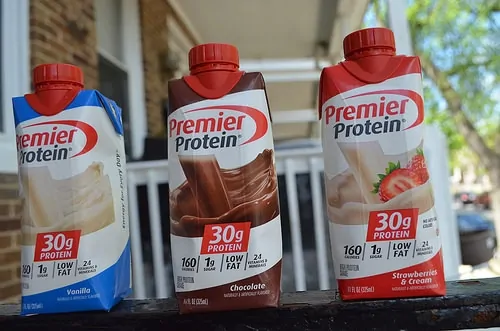 I sorta feel like I'm preaching to the choir about Premier Protein. So many of you already use it! In fact, the sheer number of you who use it prompted me to want to give it another try. I tried the shakes at the very beginning of my post-op life and I liked them well enough, but then I started playing with protein powder and making recipes and…we all know where that went.
So here I am again trying Premier Protein. If you all follow me on Facebook or Twitter, you know they sent me a lot of product. Like…a lot. I think it's because they want me to share it with you. I intend to! After the grad school semester from hell ends. Until then all you'll get is procrastination and empty promises and, really, who needs that?
Anyway, let's get on with the review!
This review will cover the shakes. They sent me lots of bars as well and I think that may need to be its own blog review! Look for it coming soon.
So the shakes come in three flavors: Strawberry, Chocolate and Vanilla. The stats on them are pretty much all the same:
Here's some other important information:
Premier uses a blend of whey isolate and whey concentrate
It also contains sucralose (an artificial sweetener used to in Splenda)
Yes, I start from the beginning, Foodies! But I think Premier's packaging is worth talking about. It's very convenient for a few reasons. Firstly, the shakes are shelf-stable so you don't have to keep them in the fridge. For those of you who work in places where you don't have a fridge, that might be very convenient. It also has a sturdy, "twist on/twist off" cap. As I was reviewing these shakes I can't tell you how many times this saved my shirts!
Taste/Texture/Yadda
Like I said in the title, it's simple protein for a complicated life. One thing I like about Premier Protein is that they keep their flavors clean. Each flavor tasted like what it was supposed to taste like. I was a bit put off by the fact that the strawberry was an off-white but then as I thought about it, that means there's no red dye in it, which is a good thing! But just to give you my initial impression (I actually wrote these phrases down as I tasted these):
Chocolate: "Tastes like a Yoohoo." (Do they still make those, by the way?)
Strawberry: "Takes me back to elementary school and those little cartons of strawberry milk." (Do they still make those, by the way?)
Vanilla: "Must Triple X this…would make an awesome thick vanilla shake!"
Which brings me to my next point. The shakes aren't super thick. (Newbies may disagree.) They pour easily. There are a few bubbles when you pour but nothing too serious. For the pics above I fanned the cups with a piece of paper and the bubbles dispersed. In all reality, most of you will drink this from the carton anyway. I will admit I didn't shake them first. They seemed fine even still.
So…was there an aftertaste? For this one I had to go outside myself. I've been on artificial sweeeteners and protein supplements for so long I don't think I could tell you even if the aftertaste tapped me on the shoulder and introducted itself. I had my oldest daughter (the "Picky One") taste it (I had to pay her to do it – the little extortionist!). She said there is no aftertaste. Then she asked if she could have the rest of it. Ba-da-bing.
Here's where I think Premier stands out from the rest. It's very freaking affordable! I didn't even realize how much so until I went through the process of reviewing the product. Incidentally, I am a member of Costco and went there randomly to get the stuff that most people get from
Costco
(well maybe not…I mostly check out their free samples – WLS Lunch! – and buy massive amounts of dog and cat food) and came upon this:
There were three huge mountains of Premier Protein Shakes (chocolate, vanilla and strawberry, shown!). But notice the price. $24.99 for a 18 of them in a box. That comes out to $1.38 each. Considering for many of us a 30g protein shake is a whole meal, I would say that's not too shabby, don't you think?
Well you all know me. I like to play with my food.
Here's one way I played with my Premier Protein Shake. Click here to get the recipe. There will be other ways!
Of all the flavors, I'd likely do the chocolate and vanilla most often. I'm not a big fan of strawberry anything, although I didn't mind testing out this flavor at all. I see that they are available all over. Check out this page to locate them near you. So they are convenient, affordable and not a special purchase.
So I think my final verdict would be to give them a try. It's good protein, for a good price, and easily accessible (If you aren't a Cosctoc member, check out the "Where to Buy" page on their website to find it near you). Especially if you are a person who doesn't need a fancy shake, you just need a good shake, with good flavor, and a good protein count, Premier has got you covered.#PWYF