You know what's hard? Living in a house with non-ops who have no qualms about eating stuff that would kill me.
Now granted, I love to bake so occasionally I'll bake them a cake or make some biscuits for breakfast but it's rare (a fact that is much complained about in my house…but when I say moderation, I mean moderation!).
But the game has changed, Foodies. Those kids that were so little when I started this blog are now teenagers. One has her own source of income. I believe in letting them make some decisions for themselves so while I can pout all I want to about junk they buy, so long as it's not all day, every day, I pretty much let it go (those with teenagers can attest that choosing one's battles at this point is essential!)
Why do I tell you this? Because I ramble a lot. Because their latest junk acquisition (in this instance huge blueberry muffins…with the large-granule sugar on top!) prompted me to take action. I can't eat that kind of stuff. Either I'll dump or I will have a bad blood sugar drop. It's taken nearly 7 years, but even my food addicted brain doesn't want either to happen so I try to avoid stuff like that.
Instead, I whipped out my copy of "The Bariatric Foodie Breakfast Book" and made these instead. Now this is a slight departure from the recipe in the book (I played with my food!), but the book has a bunch of protein muffin recipes. Way better choices than the sugar-topped muffins (or at least I'll keep telling myself that…).
A few recipe notes:
The sweetener amount assumes Splenda. If you don't use Splenda use your preferred sweetener but be sure to check their conversion chart so that you use an amount equivalent to 1.25 cups of sugar.
These freeze beautifully! But wrap them individually.
Keep a close eye on these babies. Do a toothpick test. As soon as you have a crumb on the toothpick and not goo, turn the oven off!
Want more breakfast ideas than you can shake a stick at?
Check out The Bariatric Foodie Breakfast Book! It's packed with protein-heavy breakfasts for any taste. Grab 'n go, easy prep, even brunch with the fam!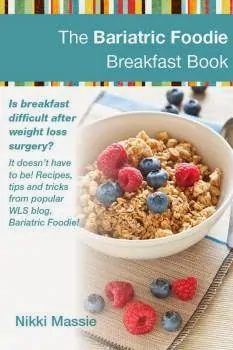 Preheat your oven to 350 degrees. 

If you have oat flour on hand, great. If not, it's easy to make. Put a cup of quick oats in a blender and whiz until flour happens! Put that in a bowl and add the rest of the dry ingredients and then whisk them together. 

In another bowl combine your grated apple with the rest of the wet ingredients and stir to combine. 

Add the wet ingredients to the dry ingredients and mix. It will seem as if there's not enough wet stuff there but just keep mixing. It will all coat, I promise!

After it's all coated, it should be pretty thick. Add the milk and then stir. That loosens it up a little bit (it'll be about the consistency of cooked oatmeal). 

Fill lined cupcake tins (fill them 3/4 of the way). This recipe yielded 16 regular sized muffins for me. You can also do mini-muffins. If you do, report back on how many you get! (Note: yes, they freeze beautifully, just wrap them tightly). 

Bake for 20-25 minutes or until a fork comes out clean (or in my case the fork came out with a crumb and not liquid). Allow to cool. You can top them with just about anything. I like either whipped Greek yogurt cream cheese on top or a smear of peanut butter.