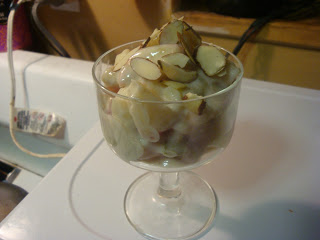 Oh Foodies…how I can't wait to move and have a more spacious kitchen so that extension cord is no longer in my food shots!!!

So…it's almost two weeks into the new year. Let's talk sensible sweets, shall we?
I don't know about you but there comes a time, especially after holidays filled with rich food and lots of treats, that I get this strong and instinctual desire for cleaner food.
Such is the case now. I originally made this as a knock-off of something I found at the salad bar at Ruby Tuesday's. But, as some of you may know, I am prone to "very special" blood sugar moments if I have too many of any kind of carbs partying on my plate (or in my bowl, as it were), so I had to figure out a way to anchor this goodness with some protein!
I'm going to give you two versions of this recipe: a "just for me" version that will yield about 2-3 small servings and a "shareable" version that will yield 3-4 normal-sized portions. For newbies and those who just want to give it a whirl, go with the former. If you have a family who might be interested, go with the bigger recipe!
Nik's Protein Caramel Apple Salad
"Just for Me" Version:
1/2 a sweet apple, diced however small you want it (I used a Pink Lady)
1/2 a tart apple, diced however small you want it
1/2 a just ripe banana, cut into half-circle shapes
1/4 c. unflavored Greek yogurt
1 heaping tablespoon vanilla protein powder
1 tbsp sugar-free caramel syrup
1 tbsp no-calorie sweetener
1/8 tsp cinnamon
1/4 tsp lemon juice
1 heaping tablespoon whatever nuts you like (I used sliced almonds, but walnut pieces might also be nice)
"Shareable Version"
1 whole sweet apple, diced
1 whole tart apple, diced
1 whole ripe banana, sliced into half-circles
6 oz. container unflavored Greek yogurt
1 scoop vanilla protein powder
3 tbsp sugar-free caramel syrup
2 tbsp no-calorie sweetener
1/8 tsp cinnamon
1/2 tsp lemon juice
1 oz. whatever nuts you like
Directions:
Combine apples and bananas in a large bowl.
In a separate bowl, combine protein powder and caramel syrup until a paste forms (if it's too dry, add a tiny bit more syrup but the paste is important so you don't get protein powder chunks in your final product).
To that, add your yogurt, sweetener, lemon juice and cinnamon.
Add to apple/banana mixture and toss lightly. Refrigerate until ready to use.
If desired, toast nuts in a dry pan for about 2 minutes before adding to the top of your salad.
This is especially good if you make it the night before. The flavors really set in and it is GOOD!
What are you guys eating to recover from the holidays?