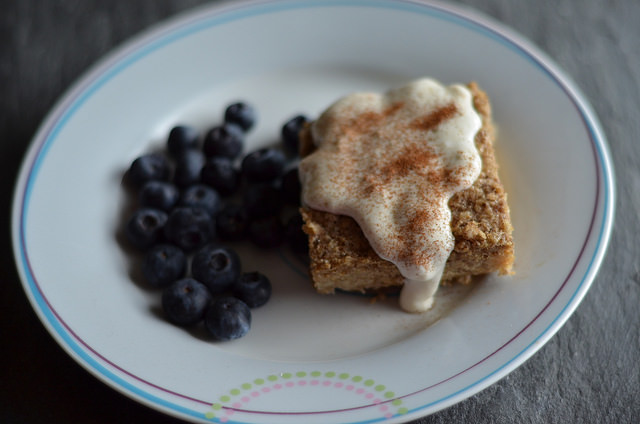 I have to tell on myself.
This post could have been up two hours ago but I am becoming increasingly persnickety about my photography and was trying to get the perfect shot to represent the lusciousness of what was on that plate. Because it was luscious. Ohhhhh…yes it was…
Nik's Cinnamon Raisin Baked Protein Oatmeal


Ingredients:
1.5 c. quick oats
1/8 tsp. salt
1/3 c. no-calorie sweetener (I used Splenda)
1/4 c. Torani Brown Sugar Cinnamon syrup (in the absence of that the same amount of sugar-free pancake syrup + 1/2 tsp. of cinnamon will do)
Up to 1/2 tsp. extra cinnamon if you are really into cinnamon (I am so I used it)
1.5 c. milk
2 eggs, beaten
2 scoops protein powder (Any powder, any size scoop, doesn't matter. I used unflavored Any Whey but vanilla or a cinnamon flavored protein would be nice, just omit the extra cinnamon if you use the latter along with the syrup.)
1/3 cup natural raisins (Some raisins have a sugar coating. I think Sun-Maid in general does not so they are a good one to go with.)
Directions:
Pre-heat your oven to 350 degrees.
In a bowl, mix together the oats, salt and sweetener.
In another bowl combine syrup, cinnamon, milk, eggs and protein powder and mix with a whisk until thoroughly combined (there should be no protein powder lumps).
Pour liquid mixture into the oat mixture and stir well.
Finally, stir in raisins and mix through.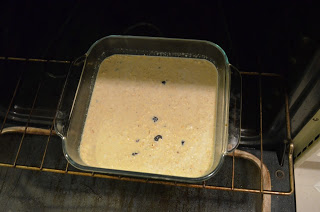 Spray down a square casserole dish (I used
an 8×8
) and empty mixture into it. Bake for about 15-20 minutes or until oatmeal is set and the edges are slightly brown.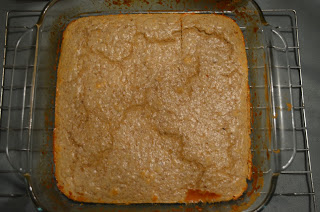 Cool thoroughly before cutting.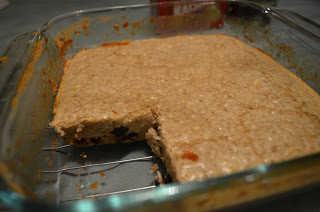 Now you may be wondering what that is on top. Well…this tasted very "Cinnabon-ish" to me so I had to make a topping. BONUS RECIPE!
Nik's Cream Cheese Topping (Individual Serving)
Ingredients:
1/2 tbsp. Neufchatel cheese (1/3 less fat cream cheese)
1 tsp no-calorie sweetener
A "splick" of cinnamon (don't ask me how much a splick is…it's a splick)
2 tsp. milk
Directions:
Nuke cream cheese in the microwave about 30 seconds.
Add remainder of ingredients and stir with a fork until smooth. Enjoy!
So this makes THREE protein baked oatmeal varieties:
Fall Harvest
,
Nutty Apple
and this. Which flavor should I take on next?