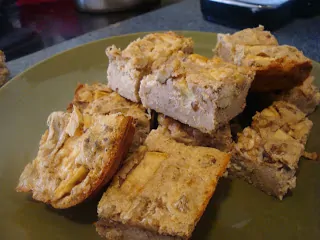 There is a phenomenon that us kitchen experimenters know well. It is called the "happy accident." What you see above is a picture of a happy accident.
See…here's the thing. This recipe started as "apples and peanut butter." Cuz I love peanut butter (this is well documented) and I have an abundance of apples. But I realized something in the making of this batch. I like crunch in my baked oatmeal! BUT…I don't like chopped peanuts in stuff. Don't ask me why, I'm weird that way!
So this became a Nutty Apple creation with the inclusion of walnuts, which made more sense in my mind. But then I cooked them just a tad too long. So they firmed up and at first I thought they were too hard, but I stuck them in the fridge anyway, figuring I'd crumble them or something. Well the next day I took them out and the condensation in the fridge had done it's magic and I had…protein oat bars!
But let's start at the beginning. By the way, there are a few protein baked oatmeal posts here on the blog (click around and discover!) but you'll find a LOT more in the Bariatric Foodie Breakfast Book, along with mini-frittatas, omelets, protein muffins and a whole bunch of other breakfasty goodness! Check it out!
Nik's Nutty Apple Protein Baked Oatmeal (or Bars)


Dry Ingredients:
1 c. quick oats (Folks have asked about steel cut and regular oats. I do not recommend. Protein cooks FAST. Unless the oats can keep up the texture isn't going to be that great. But I welcome you to prove me wrong!)
3 scoops of either vanilla or unflavored protein powder (I used this unflavored kid)
A generous pinch of salt
1/2 tsp. cinnamon
Wet Ingredients:
1.5 c. milk (or, I recently started subbing in a full-container of Premier Protein vanilla for extra protein – woop!)
1/4 c. sugar-free pancake syrup
2 eggs, beaten or 1/2 c. Egg Beaters
1/4 c. PB2 powdered peanut
1/4 c. natural peanut butter (I used Naturally More) NOTE: If you don't have access to a good, healthy peanut butter but DO have PB2, use about 3/4 c. of it. If you have peanut butter but no PB2, use 1/2 c. of the peanut butter.
Chunky Stuff
1 small apple (I used a honeycrisp) cut into small cubes
1/4 c. chopped walnuts
Directions:
Pre-heat your oven to 350 degrees.
Mix all dry ingredients together in a mixing bowl. Set aside.
Mix together all wet ingredients in another bowl. Add to dry ingredients and combine thoroughly.
Add chunky stuff and mix that in well then pour into a
casserole dish
(mine was 8 x 8) that has been sprayed in non-stick.
For baked oatmeal (soft, but can be cut into squares, just a tad wetter than a cake): Bake for about 15 minutes or until the top is done and edges are set. For oat bars: cook 30 minutes until edges are brown.
Cool before attempting to slice!
These taste just…lovely. YUM! Now I'm on the fence about which I like better: my
Fall Harvest flavor
or this one. Hmmm…good thing both are so easy to make so I don't have to decide!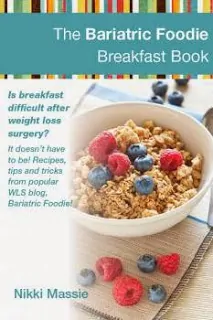 And for more breakfasty goodness than you can shake a shaker bottle at, check out The Bariatric Foodie Breakfast Book. In it you'll find:
– Many more recipes for baked protein oatmeal
– 11 things you never knew you could do with cottage cheese
– A protein-enhanced soft egg scramble perfect for new post-ops
– A make-your-own low-carb/high-protein baking mix
– Un-Breakfast recipes – just in case eggs/bacon isn't your thing
These recipes were developed with you in mind. The portions are small, the recipes freeze beautifully and they are so delicious your family will want to try them too!
So if you're stuck on what to eat for breakfast after weight-loss surgery, give The Bariatric Foodie Breakfast Book a try!