~~posted by Jen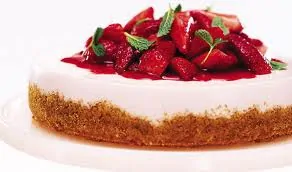 The Inspiration!
Back in the days before my RNY Gastric Bypass on July 21, 2008, I adored dessert. Sometimes if we went out for dinner, I would have them wrap half of my dinner so I could order double dessert. Thinking back on my eating habits in those days now kinda nauseates me at times, but I digress.
One of my favorite desserts was White Chocolate Cheesecake with Strawberries. As I wandered through the post-op maze of protein shake experimentation, I decided it would be nice to re-create those flavors in a much healthier version that fits my life now.
After a few attempts, I finally perfected the ingredients, and a new shake was born! This has become one of our more popular flavors at our Pouch Party™ Shake It Up! Protein Shake Tastings we do at support groups. (Think your group would enjoy this? Hit us up!)
In fact, it's so popular that it is the first of two introductory flavors (along with another fan favorite: Nik's Decaf Mochachino) for our forthcoming Pouch Party™ Shake It Up! Sample Cups. You can learn more about those at our Holiday Preview!
If you haven't already bought your ticket, what are you waiting for? Time is ticking away for the discounted price, and you do NOT want to miss this party! So move your mouse and click on the very top link right over there ~~~~~~~~~~~~~~~~~~~~~~~~~~~~~~>
to reserve your spot today.
Now back to the shake, here's how it's done:
Jen's White Chocolate Strawberry Cheesecake Protein Shake
Ingredients:
1 scoop Vanilla Protein powder
1 tbsp Sugar Free Jello Instant Pudding Mix–Cheesecake flavor
8 oz milk or soy milk
5 fresh strawberries, hulls removed, cut into pieces (or use frozen if fresh aren't in season)
3 pumps Davinci SF white chocolate syrup
3 packets Splenda (adjust to your taste, I like SWEET)


Directions:
Pour the milk into your blender cup. Add the Protein Powder, pudding mix, strawberries, and SF Syrup. Whiz it up in the blender. Taste it, add as much Splenda or other sweetener as you like, then whiz it one more time.
I drink mine cold and straight up, but if you prefer more of a milkshake texture, add some ice and follow Nik's Triple X method.
It won't be QUITE this big, and no, the guy is not included!