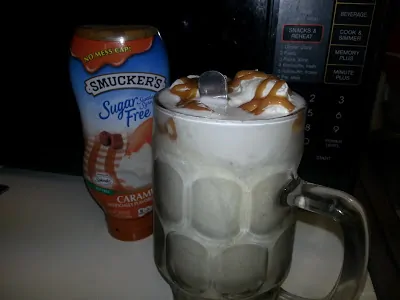 #PWYF = Play With Your Food and is also how I'm going to start to denote the awesome recipes YOU send me!
This one is from Dana. He's been reading BF for a LONG time and I value his perspective on post-op life. After letting me know he's ok (he lives in the Boston area, ya see) he sent along this picture and protein drink recipe.
I'm sure Dana won't mind that I dedicate this post to the people of Boston. I am a praying person so, you are in my prayers! If you are not a praying person, I ask that you send positive thoughts for safety, healing and justice. Thanks, Foodies!
Dana's Super-Chilled Protein Caribbean Cooler Colada


1 scoop Syntrax Nectar Caribbean Cooler protein
1/2 frozen, sliced banana
8 ice cubes
4-5 oz. unsweetened vanilla almond milk
1 packet no-calorie sweetener
Optional: fat-free whipped cream, sugar-free caramel sauce
Directions:
Dana mixed his up in his Vitamix using the Bariatric Foodie "Super Chill Method of Making a Protein Frosty." The method works on nearly any blender.
Enjoy!