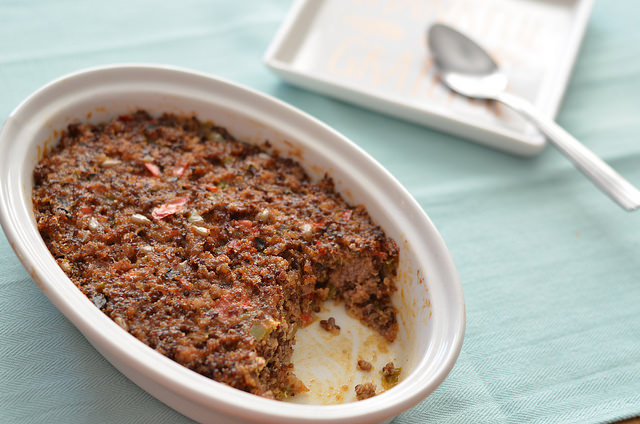 Indulge me a moment of nostalgia.
My mother. God rest her soul. She made the BEST sausage stuffing ever. Like, EVER. (But who doesn't say that about their mom's cooking?)
And it was nothing fancy at all. She used Stovetop Stuffing (the cornbread kind, of course), onions/peppers, extra garlic and, of course, the piece de resistance…breakfast sausage. And not just any breakfast sausage…the kind that basically yields enough grease after frying it up that you can fry your eggs in it.
I have no idea why I was ever overweight. (Snicker!)
Yeah so these days there are several things about that scenario that won't work for me (including one that would down-right kill me). So over the past nine years (and more vigorously over the past five since my mom died) I have been searching for a way to enjoy that stuffing…HER stuffing…without going into a carb coma, a fat dump, or just generally wishing someone would shoot me (all of which would happen because I took one too many bites of the traditional stuffing recipe).
And I've tried various stuff. In The Bariatric Foodie Holiday Survival Guide I've got a healthified version of cornbread dressing. I like that just fine. I've also made dressing out of wheat bread, which actually went over in my family way better than I thought it would! I liked that just fine.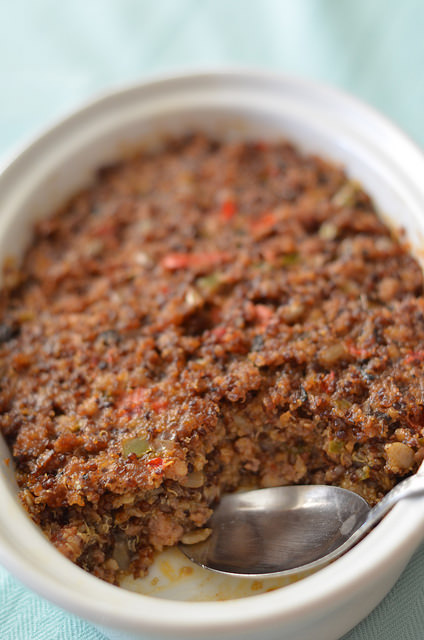 All this is to say that I'm not introducing this recipe to you as  the end all/be all of dressings, but more like "this is another super-yummy option for you to choose from!" Here's what I think is cool about this recipe:
Of all the healthier stuffing recipes I've tried, this one tastes most like my mom's original (the children concur). I did add diced apples to my recipe just because I've always found my mom's recipe a bit rich and the apples give a nice tang to offset that. But you can certainly omit them if you want!
It has amaranth in it…and I just love saying amaranth. If you aren't familiar with this highly nutritious ancient grain, take a moment to check it out. If nothing else, it's just hella cool to say!
Understanding that sometimes our family, despite our very best efforts, cannot be moved to be healthy, I have made this recipe small enough for you not to be saddled with leftovers from here until the apocalypse. (You're welcome) This recipe makes either one 8 x 8 casserole dish of stuffing OR several ramekins full. Halve the recipe if you think that's still too much!
Some notes on quinoa and amaranth:
Yes they are carbs. I know many of you are afraid of carbs. Not all carbs are created equally! These are very nutrient-packed carbs.
If you've never cooked quinoa before, check out my tutorial (you'll thank me later!)
It took me a while to pin down how much liquid to cook it in. What works best for me is to use 1.5x more liquid than grains
Yes, you can cook them both together in the same pot.
Yes, you can use just quinoa and not amaranth (although you lose the right to say amaranth when you describe what's in it and I think that's a tragedy)
Yes you can use the quinoa that comes in the box in the grocery store. Just cook it fully before mixing it with the veggies/sausage in the recipe. It'll be fine.
And, finally, yes, this freezes very well. Wrap it tight. When you are ready to reheat it, just pop it in the oven at 350 and you've got the joy of Thanksgiving all over again!
I think that about covers it, right? If not, hit me up in the comments. Otherwise, go forth…and STUFF THINGS! And also…remember the reason for the holiday. The food is great, but it's really about gathering together with your loved ones and celebrating your blessings. I count each and every one of you among my blessings and I wish you a Thanksgiving filled with laughter, good times, great memories and love. 🙂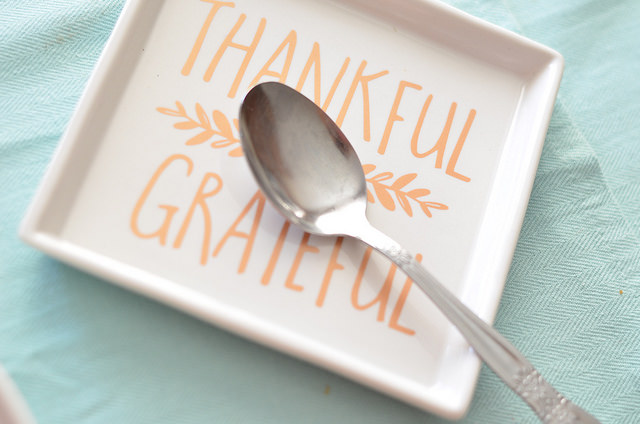 In a pot, bring the chicken broth to a boil. Add quinoa and amaranth, drop heat to low, and allow to cook for about 30 minutes, stirring often. Mixture is done when little white coils appear from the quinoa. (Note: there may be some liquid remaining.)

Meanwhile, spray a skillet with nonstick cooking spray, set it over medium heat and allow it to get hot. Add onion and peppers and sauté 1-2 minutes, or until softened.

Add sausage and cook until browned, breaking up the sausage into small bits.

Add quinoa/amaranth mixture and diced apple and stir before adding spices.

Transfer to a baking dish and bake for on 350 degrees for 20-30 minutes or until stuffing appears crispy on top.