In case you're just joining us, I've been mini-sizing some of the recipes from The Bariatric Foodie Holiday Survival Guide.  Next up is a mini version of my Sweet (and Salty) Potato Casserole. So far I've mini-sized my Apple Crumble into Apple Crumble Ramekins and I have turned the Thanksgiving Casserole recipe from the book (which is exclusive to the book and does not appear on this website) into Thanksgiving Meatballs with Whipped Mashed Cauliflower and Craisin Sauce.
But this? This by far is my favorite recipe in the whole book. It's sweet, it's salty, it's kinda like pie, kinda like a side dish, definitely good. And guess what? My family loves it too! This dish always gets gobbled up every Thanksgiving. The full-sized version appears in the book but not on this website.
Well now I have yet another reason to love it because this is a super easy dish to mini-size. (The casserole dish you see is a 12-oz. oval shaped but this would also work well in about four ramekins.)
Although I have to warn you about what will happen when you mini-size holiday food. I don't know that there's an actual theory or studies around this, but in my life I've found when I make something healthy for the entire family, they don't want it (even when I try to pass it off as a normal dish). But let me make something that's just for me? Oh, the fam is all over that! Is it the scarcity mindset, you think?
I've no idea. But it's happened enough times where I know it's true. Every time I make a mini-sized anything and sit down to have some, somebody moseys into the kitchen, with that Cheshire Cat smile on their face and goes (in a sing-songy voice, no less!), "What's thaaaaat? Can I have soooooome?"
Sigh. The struggle is real, Foodies. Protect your weight loss surgery holiday food!
Here's the strategy I use nowadays to thwart food theft:
I test my holiday recipes a few weeks before the holiday. I advise you to do this no matter what if you are making a healthier variation of a recipe. Don't fly blind with holiday recipes. That never ends well! When I test the recipe, I make a relatively small batch.
When I do, and my family swipes my food, I take note. To be fair, sometimes they don't like my healthy variations. When that happens I know I need only make enough for myself the next go round.
Then on the actual holiday, I make a full-sized version and when they ask what it is I say, "You remember that dish you loved so much? It's that!" And then they happily scarf it down.
So in summary, yes Foodies, feeding your family healthfully is sometimes an exercise in psychology (borderline Jedi mind tricks).
If you want even more fun holiday recipes, check out: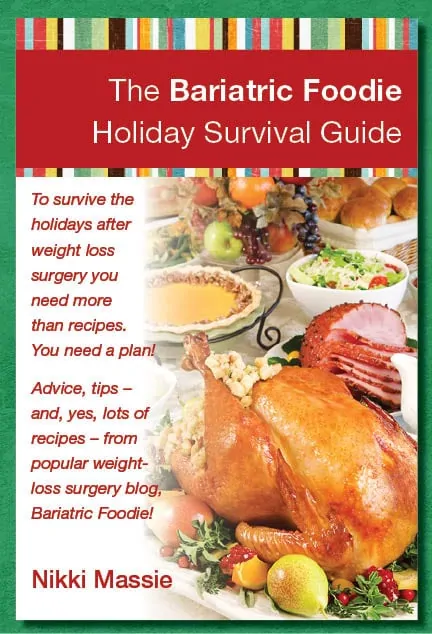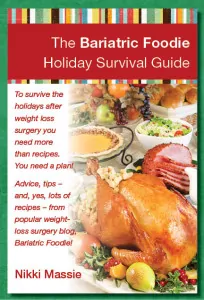 Pre-heat your oven to 350 degrees.

Bring a small pot of water to a boil. Add sweet potato and boil until very tender (about 7-10 minutes).

In a mixing bowl, mash sweet potato thoroughly, then add protein powder, sweetener and pie spice and mash again. If you like a totally smooth consistency, consider using an immersion blender.

Add sweet potato mixture to a mini casserole dish or to several ramekins.

In a small pan, melt butter. Add pecans and salt and toss until pecans are thoroughly coated.

Top mini casserole or ramekins with nut mixture and bake at 350 for 15 minutes or until nuts are toasted.