~~posted by Jen




First and Foremost, a big Happy Birthday to Nik, our resident "Pouch Diva." She is taking a couple days off to enjoy her birthday, so y'all are stuck with me for the weekend. Nik, party it up, girl! We love you!!
Left to Right: Nessa, Nik, and Andrea. The guy in front is some random wedding guest in their hotel lobby. Pic by Melting Mama. Thanks, Beff!
Today is our last day of Leftovers Week, we hope you've enjoyed everything we've shared and that you use these recipes to make new meals from your holiday extras. At holiday meal time, everyone always has green bean casserole for the most part, at least where I come from. I made a healthier version of the traditional for the Holiday Preview and shared the recipe a couple weeks back. Well I clearly remember in packing up my things to come home from Baltimore, I still had a four pack of canned green beans leftover.
I know I packed them, I distinctly remember putting them in the re-usable shopping bag with the remaining Atkins baking mix and Splenda to bring back home. What happened to them between my hotel room in Baltimore and my home in New Jersey, only the good Lord knows. All I know is that when I went to make my green bean casserole on Thanksgiving Day, they were NOWHERE to be found! I had 5, yes, I said FIVE, cans of Fried onions. Not. one. single. can. of green beans.
Well of course there is a vegetarian in the house, I can't very well just serve turkey and stuffing and call it a day. Y'all know what I did. I made it WORK, people!!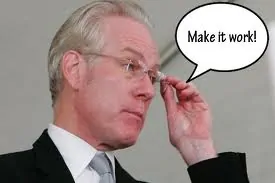 I always have a ginormous Costco size bag of "Normandy style" (that's cauliflower, broccoli, baby carrots, and yellow squash, what makes it Normandy style is beyond me) vegetables in the freezer.
So I combined the idea of two of my usual Thanksgiving dishes, Green Bean Casserole and Broccoli Casserole, into one dish. A couple days after Thanksgiving, I needed to use up the leftovers, so I added some turkey breast meat to it and called it dinner.
This was a big hit with everyone, and in fact will most likely replace good ole Green Bean Casserole at future holiday meals. Here's how I made it: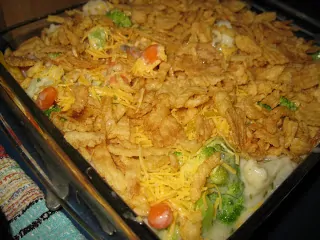 Jen's Cheesy Mixed Vegetable Casserole with Turkey


Ingredients:
1 can (10 3/4 ouncese) reduced fat Cream of Mushroom Soup
1/4 cup milk
1 teaspoon salt
Dash ground pepper
1 tbsp Garlic Powder
1 tbsp Onion Powder
3 cups "Normandy Style" mixed vegetables, thawed
1/4 cup Greek Yogurt
2 cups shredded cheddar cheese
1 can stems & pieces mushrooms
2 cups cooked turkey meat, chopped into bite-sized pieces
2/3 cup French Fried Onions


Directions:
Preheat oven to 350 degrees. Whisk together the soup, milk, Greek Yogurt, and seasonings. Stir in the vegetable medley, mushrooms, turkey meat, and 1 cup of the shredded cheese. Continue mixing together until thoroughly combined.


Spray a 3 quart casserole dish with cooking spray, then pour the mixture into the dish. Spread it out evenly with a spatula. Bake at 350 degrees for 25 minutes until it is bubbling and hot. Remove from oven, stir the mixture, then top with remaining cheese and the fried onions. Return to oven for an additional 5 minutes, or until the cheese melts and the onions are crispy.


Note: You can also cook this in the microwave if you prefer, just follow the instructions here.