~~posted by Jen
Yesterday I posted the Comprehensive Thanksgiving Recipe tips along with my Whole Berry version of Sugar Free Cranberry Sauce. I know some people are purists and don't like actual berries in their sauce, so this is the Sugar Free Jellied version.
My camera is still MIA, it's somewhere here in the remodelling mania. Hopefully I will find it since Dessert Week starts tomorrow and I need to take pics of my scrumptious creations! We'll still be sharing more Turkey Day tips, decorating and centerpiece ideas, along with the desserts, right up until the big day. No need to stress over your holiday cooking, we've got you covered!
Don't stress about those leftovers, either! Because all week NEXT week is Leftovers Week, we'll show you how to turn those turkey day leftovers into deliciously different meals that fit your plan AND please the fam!
Nik will kick us off tomorrow morning with something sweet and delicious that will perfectly complement your Thanksgiving meal. In the meantime, here's how to make the Jellied style Sugar Free Cranberry Sauce. Enjoy!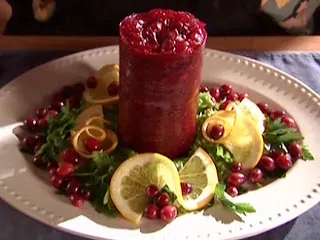 Pic Totally Jacked From Google
Wash the cranberries, remove any stems, and discard any soft or wrinkled berries.

Combine the cranberry juice and Splenda in a 2-quart saucepan over medium-high heat. Bring to a boil and then reduce the heat to medium-low and simmer for 5 minutes. Add the cranberries and cook for 15 minutes, stirring occasionally, until the cranberries burst and the mixture thickens.

Do not cook for more than 15 minutes as the pectin in the berries will start to break down and the sauce will not set as well. Remove from the heat, whisk in the box of Jello, and allow to cool for 5 minutes. Note: If you are early out, or don't want any actual berries in your sauce, strain the mixture through a sieve before whisking in the Jello.

Carefully spoon the cranberry sauce into a 3 cup mold. Place in the refrigerator for at least 6 hours and up to overnight. Remove from the refrigerator, overturn the mold and slide out the sauce. Slice and serve.