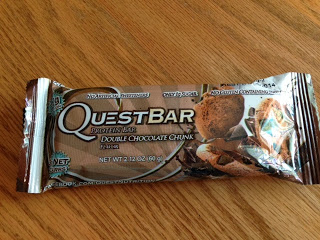 FTC Disclaimer: Bariatric Foodie and its representatives (here referred to as "Foodie Reviewers" received complimentary product for the purposes of this review. Bariatric Foodie strives to provide fair and unbiased product reviews, as set forth in its Advertising and Product Reviews policies. Any products that are linked within this blog post will redirect you to website where you can purchase that product online. If you do purchase the project through the linked site, Bariatric Foodie receives a small portion of your purchase price. If you have any questions, please email bariatricfoodie@yahoo.com
Man…Quest is always coming out with new and yummy flavors! And the freaky thing is that they seem to be
reading my mind
. Such is the case with this bar. I am solidly on #TeamChocolate, so I was excited for the
Quest Double Chocolate Chunk bar
.
But I want you guys to get various perspectives, so I asked two Foodie Reviewers to try the product and let me know what
they
think. Just as a reminder, Foodie Reviewers are readers who have volunteered to do product reviews for you. While I have enough Foodie Reviewers for the time being, I plan to get more Foodies involved in the future, so stay tuned to Bariatric Foodie on
Facebook
and
Twitter
to respond the next time I call for volunteers.
Here's what your fellow Foodies had to say about this new protein bar!
What'd you think about the packaging?
Sherry: The packaging shows chocolate chip cookies, which was my downfall pre-op. Lots of great information on the front such as 20g of protein, 3g net carbs, only 1g of sugar and no artificial sweeteners and no gluten containing ingredients.
Monica: Very attractive package. I liked that it clearly stated on the front: no artificial sweeteners and 20 grams of protein. The list of ingredients on the back was easy to understand; the.only one that I didn't know, they explained with an *.
How are the "stats"?
Sherry: Stats are 160 calories, 6g of fat, cholesterol 5mg, sodium 250 mg, potassium 180mg, total carbs 25g, dietary fiber 16g, sugars 1g, erythritol 6g and protein 20g. Stats are great for a meal replacement bar.
Monica: Good nutritional value for what you get.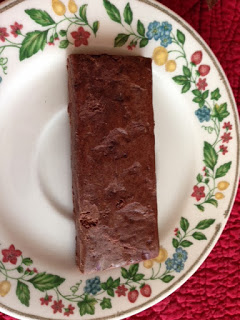 What about the smell and texture?
Sherry: Upon opening the package, you immediately get a whiff of chocolate. The bar looks like a brownie. There are no "chunks" of chocolate though. A little deceiving. The texture was like a very chewy brownie. Was surprised that the product was "crumby" when bitten.
Monica: Since I had never tried a Quest bar before, I expected the bar to look like the outside of the package (a chocolate chip cookie). I was surprised to see that looked more like a brownie. The smell was sweet and pleasant. The texture was soft and malleable.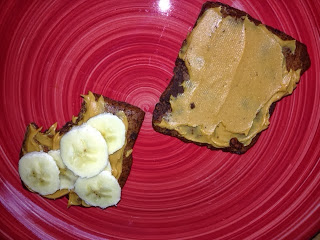 So how'd they taste?
Sherry: It tasted like a chocolate protein bar. Smelled better than it tasted. I was not jumping for joy at the taste.
Monica: If you like chocolate this is for you! I tried a bar, two different times. One time was right out of the package (flower plate picture). Great to eat on the go, when you need to eat good, withoutalot of time. I loved that it didn't have a gritty taste. The other one, I flattened out, cooked it for 5 min at 380 degrees and topped it with a tiny bit of peanut butter (red plate picture). Baked, it tasted almost like a peanut butter brownie. Yum! I gave my eight year old daughter a small bite of the bar without peanut butter on it and asked her if she'd buy it again. She said enthusiastically said, "Absolutely!" There is a slight aftertaste, but it is not bothersome.
Do you think this product has overall value?
Sherry: I would buy these as back up for the office, when I don't have time or forget to pack lunch. Not a bad price for 20g of protein in a hurry.
Monica: I ate my bar for dinner. It kept me full until bedtime (4 hours) and the sweetness of it satisfied my "sweet tooth" so I didn't go searching for something to snack on later in the evening. I was worried that with so much fiber (16 g) and the Erythritol (6 g), that I would have stomach issues, as my body is extremely sensitive to sugar alcohols and large amounts of fiber. I was pleasantly surprised that was NOT the case. No problems with digestion – at all. Based on the taste, the amount of nutritional info you get, the fact that it didn't upset my stomach and it kept me full until my next meal, I feel it's well worth the price. Even better when you can get a coupon from a major retailer that carries it!
(BF Note: Erythritol doesn't work the same in the body as other sugar alcohols. In fact, most people don't have any reaction to erythritol at all, so if you see it in a product, just keep that in mind!)
Final Verdict: (Should a Foodie "purchase" or "pass?")
Sherry: Like a previously stated, I would purchase, but not as an everyday meal. I prefer protein shakes. These would do in a pinch. Best chocolate tasting protein bar that I have had though. Good job Quest!
Monica: It's definitely a purchase! A flavorful way to get in your protein.