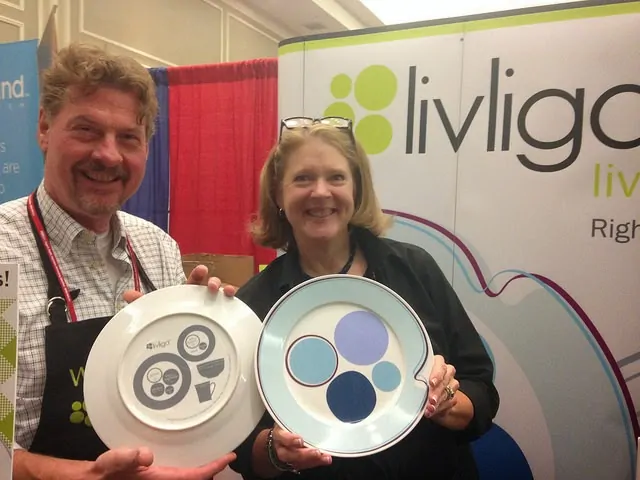 Sheila and her husband, and Livliga co-owner, Walter, at the Obesity Action Coalition "Your Weight Matters" Convention.
This review was written in 2015. Please keep that in mind when clicking links!
I met the folks at Livliga at the Obesity Action Coalition's "Your Weight Matters" Convention in Orlando last year and fell in love with their portion control dishes. I've seen portion control dishes before but they always looked so…obvious. They had the measurements directly on the plate which, to me, screams "I'm on a diet!" What I liked about Livliga is that the portion control is built into the design. To a bystander they look like beautiful dishes. But to you, they are guide maps to balanced eating!
So that we can learn more about this product, I asked co-owner Sheila Dietrich to answer a few questions about Livliga. BUT…you know the best information for us comes from us. I also asked a fellow Foodie, Shannon, to spend a few months using the dishes and report back. I'll post that tomorrow. Until then, here's what Sheila has to say about Livliga.
Nik: How did you come up with the idea to develop Livliga products?


Sheila: I've struggled with weight issues all my life. When I became
executive director of the American Heart Association in Denver I became more
aware of the obesity epidemic and how it affects us all.
I was motivated into action when the Centers for Disease Control
made the statement that "we are now living in a generation where parents are
going to outlive their children because of obesity." I'm a mom of three kids,
so that pronouncement made me made.
In my opinion there is something critical missing in our tool
chest to combat overeating. It turns out our eyes make the decisions about the foods
we eat, not our stomachs – positive visual cues have the power to help us
control our eating.
That is why Livliga was created–to create an appealing and
attractive food environment that supports us, through integrating the
psychology of eating, in right-sized eating that actually makes of feel
satisfied at the end of a meal.
Nik: So the plates have portion sizes and markers, but post-ops vary on how much they can eat. Do you think your products are still useful to them?
Sheila: Absolutely. We know, according to bariatric patients and bariatric physicians, Livliga is useful to individuals prior to surgery, post-ops and down the road, a few years out, as people begin to eat slightly larger portions.
Prior to surgery our dishes help individuals get used to smaller portions and guides them to right-sized eating. Post surgery individuals have found the side plate is the best one to use, not the dinner plate. Then a few years out all the pieces can be used.
Nik: I've heard a lot of Foodies express that they wish their spouses or kids would start to eat better. For a person with a (air-quote) normal stomach, how do these dishes make a difference?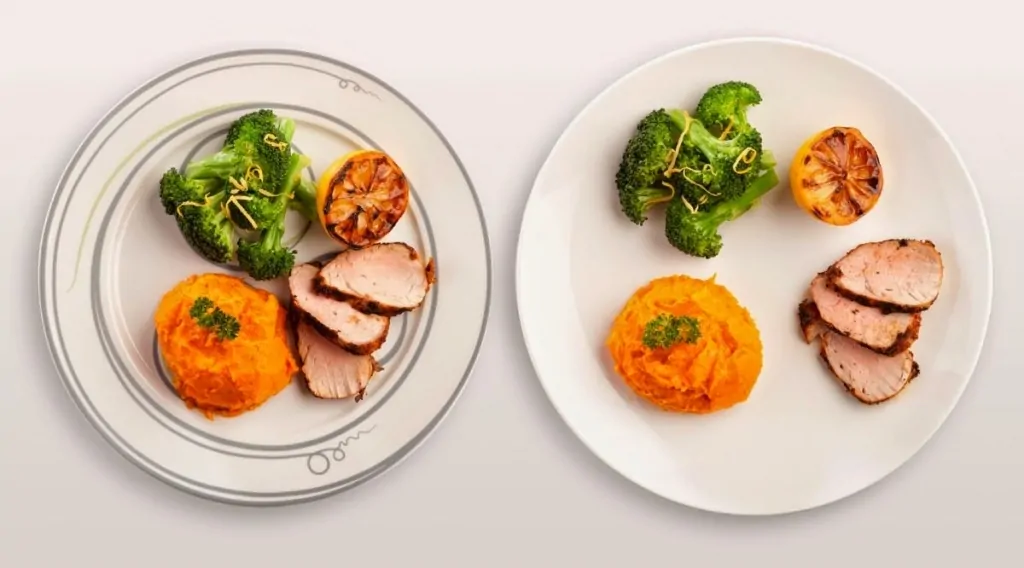 On the right: a traditional plate. On the left: a Livliga plate.
Sheila: Livliga is all about everyone being in it together. Our designs are a subtle way to improve and control our food environment. Eating healthy is relevant to every one no matter your size, age, or if you are at your ideal weight. The wonderful thing about our plates is they support everyone in healthy eating habits.
The icons on the plate remind us to eat a balanced meal as well as to eat certain foods in certain amounts. Studies actually show that there is a "halo effect" when one person changes their habits to eating less and eating healthier. Not only do they get healthier but they end up influencing the others around them and they get healthier too.
Also, other research shows that long-term results for living a healthier lifestyle are much more successful if everybody in your family (including family of friends) joins in the lifestyle. Livliga is a physical manifestation of the commitment to living a healthier life long term.
Nik: What are the dishes made of? Are they durable?


Sheila: The dishware is made of porcelain. Porcelain is high fired and very durable. Livliga dishes are actually restaurant grade so they are made to last. They are microwave and dishwasher safe, lead free and made of a sustainable material. The packaging is also recyclable and made of renewable resources.
Our glassware is also made of a sustainable material. The glass is etched not painted so the design and fill lines will never wear off. It is chip resistant, microwave and dishwasher safe. The packaging is also recyclable and made of renewable resources.
Nik: Many Foodies and their families are on a pretty tight budget? Why is your product worth it for them?


Livliga products are made to last. We also wanted to offer a product that was beautiful, in fact artist designed, and with different patterns so people would want to use it every day, at every meal (including holidays) and with every one from family to friends. We wanted to package it in a way that people could pick and choose what they wanted to buy and how much. It is something you can keep adding to over time.
We also intend to add new product every year. For instance, we are developing a bariatric set (thanks to feedback we got) that will include a smaller bowl for ¼ and ½ cup servings and our side plate. We are also about to launch our LivSpoons that are a merger of a serving spoon with a measuring cup that will make it even easier to serve up right-sized amounts of food. Simply put, Livliga tableware is a positive investment in your health and that of your families too.
So there you have it! That's what Sheila, co-owner of Livliga Home, has to say about their products. Next we'll hear from a fellow Foodie about what she thought (and she was very thorough and honest!). I'm aiming to get that up later today, tomorrow at the latest. In the meantime, don't forget to show Livliga some love on social media for being a Pledge Sponsor: