So this week is shaping up
to be a "newbie sponsor" week for the Bariatric Foodie Pledge. Yesterday I
introduced you to one of our sponsors, BariMelts (the vitamins that melt in
your mouth, not in your pouch/sleeve/…whatever).
I met Rock Toone, owner of
Squeaky Cheeks, when I was manning the Foodie table at Obesity Help Conference
in Los Angeles (by the way, are you going to
#OH2015
? It's in Charlotte, NC
this year. Come party with me!).
So Squeaky Cheeks helps
with our for-real, for-real "dirty little secret." When you lose weight rapidly
there is skin. That skin tends to rest on other skin. When we move or exercise
(or just exist) sweat and moisture can get trapped there and we all know what
happens next – ouch!
Squeaky Cheeks is here to
help. But how? How is it different than the standard baby powder? And why is it
better? I talked to Rock to find out.
Nik: What in the WORLD gave you the idea to
come up with this product? And why did you name it Squeaky Cheeks?
Rock: Ok, let's face it,
everybody gets hot, everybody sweats, and everybody stinks. And we can all agree that can cause lots of
problems.
Like chafing, or, repeated
rubbing and friction to the skin from something. It can be every bit as painful
as a real medical injury. I personally am a world class "chafer." I'm also a
firefighter so chafing is sometimes inevitable. I tried all the standard
remedies on my drug store shelf, but nothing held up to the rigors of my job:
they all either caked up, fell off or felt squishy and made a mess of
everything! And they only provided
temporary relief!
The real problem is not
the fact that we sweat or experience friction to the skin, that part is often
unavoidable. The problem is the bacteria that proliferate the issue; none of
the products on the market address this problem.
I searched for something
that would help my predicament and could not find a remedy. Well they say necessity
is the mother of all invention, so to meet my need I created Cheeks. You can
use your imagination to think about how we came up with that name BUTT if you try
hard I'm sure you'll figure it out!
Nik: Your product doesn't use talcum powder.
Why is that important?
Nik: Can Squeaky Cheeks really help with those pesky rashes and skin irritations?
Rock: It actually can! Squeaky
Cheeks has several powerhouse ingredients that help promote healing. One is
very special clay has unmatched absorption abilities that allow it to wick
sweat away from the skin without breaking down or caking up and lasts for
hours. (Nik Note: This is true! I tried
some Squeaky Cheeks out while I was manning the Foodie table at Obesity Help conference
– in my shoes – and it did not cake up or get gross after wearing those shoes
for 10 hours! Moving right along…)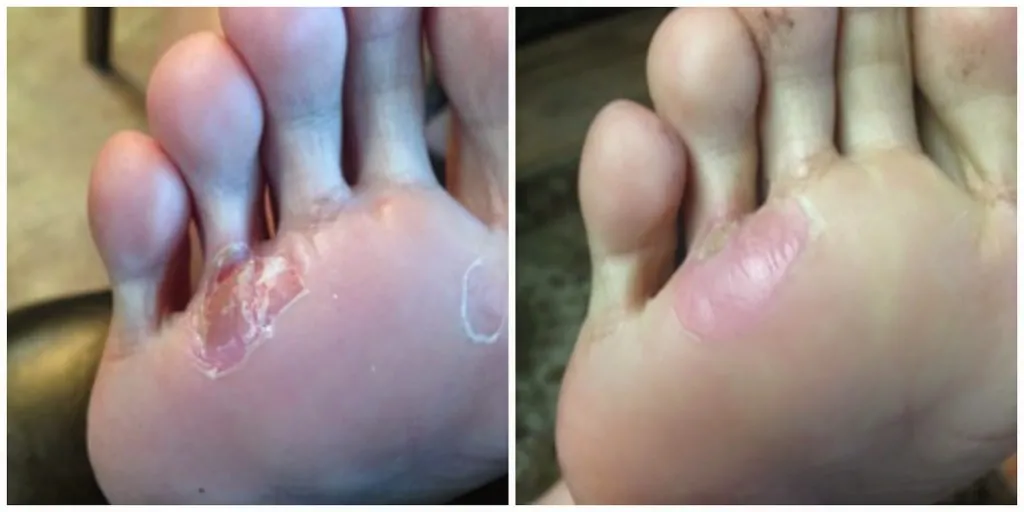 Left: Post-marathon blister, Right: 48 hours later with use of Squeaky Cheeks
And although it's a
powder, it also has the ability to lubricate the skin allowing it to breathe.The
most important element is that it has a particular molecule design that
contains very powerful negative ions that adsorb positive ions in the body such
as toxins, bacteria, and fungus by drawing them into the clay, preventing their
growth. Stop the bacteria, stop foot
odor, and eliminate chafing.
Nik: Are you a doctor? Did a doctor help
develop this? How do we know everything in this is safe?
Rock: I'm not a doctor, and
I didn't develop this product with a doctor. I have received very positive
feedback from the medical community about Squeaky Cheeks and many doctors
recommend it as a better alternative when the solution is such that a simple
powder is the best remedy for skin irritations.
I do not ever claim to
heal anything, but I will say that the natural ingredients in Squeaky Cheeks greatly
assist healing – and without the known side effects of ingredients like talc.
Squeaky Chees is all-natural and works better than anything on the market!
Nik: C'mon…tell the truth…do you ever blush
when you say where you work?
Rock: Here is the deal. If
I am going to talk to you about Swass, Swoobs, Rash, Chaff, Odor and any kind
of Fa-Munda YUCK you dare to discuss I need to make you smile
first….right?
In all seriousness, I am
passionate about helping people with Squeaky Cheeks and I stand behind my
product! And I have a no-nonsense, unconditional guarantee. If you don't like
Squeaky Cheeks for any reason, I will give you a full refund – and you can
still keep the product. Seriously, science and sales pitches aside. It works!
So I hope your Foodies will give it a try!
If you'd like to hear
first-hand how it works,
meet
my friend Jeff
, a weight loss surgery patient who tried Squeaky Cheeks and
loves it.
So there you have it…
THREE of this week's pledgers will win a month's supply of Squeaky Cheeks. Be sure to check in your goal this weekend so you qualify for the prize. Check-in begins Saturday at noon EST and closed Sunday at noon EST. Be sure to follow Bariatric Foodie on Facebook and Twitter to get reminders!