~~posted by Jen
Yes I love these!

Y'all have heard me mention my morning protein smoothie by now, I'm sure. Well this morning I was out of my usual EAS Vanilla Soy Protein Powder that I use for my Blueberry and Tropical Smoothies. I had plenty of Chocolate EAS Soy on hand, so I decided to try something new, just in time for Valentine's Day!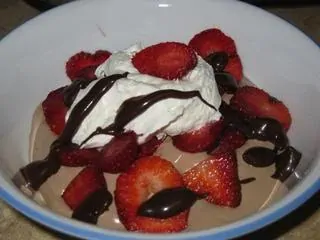 This dessert inspired the smoothie
I love Chocolate covered strawberries, as those of you who've tried my Better Than Sex Dessert could probably tell. So I thought a Chocolate Covered Strawberry Smoothie would be scrumptious, and it was!
Here's how it's done:
Jen's Chocolate Covered Strawberry Protein Smoothie


Ingredients:
1 DIY Smoothie Kit (6 whole frozen strawberries and 2 cubes of frozen Greek Yogurt)
1 scoop Chocolate Protein Powder
2 pumps (tablespoons) Davinci Sugar Free Chocolate Syrup
8 oz milk (I used 2%, use what you prefer)
3 packets (teaspoons) sugar-free sweetener (I use Splenda)
Directions:
Add the smoothie kit to the mixing cup of your shake blender, pour in the milk, then add the protein powder, sweetener, and syrup. Blend until smooth, usually about a minute or so. Pour into a tall glass, top with whippage and chocolate sugar free ice cream syrup if you desire, and enjoy!