I miss candy. I really do. I won't even lie about it.
Thankfully (?) my surgeon gave me the kind of very special RNY pouch that does not like real sugar. And I also have the kind of pouch that hates sugar alcohols (of which sugar-free candies have a lot). So…I miss candy. Especially at Halloween.
Back in the day, I was big into the chocolate. You could have the candy corn. The Smartees. The Now & Laters (which somehow everyone I knew simply called "Now Laters"). I could care less how many licks it took to get to the Tootsie Roll center of  Tootsie Pop. Give. Me. The. Reese's Cup!!! Sigh. I have fond memories.
And don't get me wrong. I can eat some candy. I won't like about that either. But it's only after I've had a good deal of protein. In which case I can't eat very much of it. But I can have a bite or two. (And after all that is the point of the surgery, right? That I can eat lots of healthy stuff and not a lot of not-so-healthy stuff.)
What point am I getting at? (Good question.) When Halloween rolls around I could feel left out. But I don't. Know why? Because I play with my food!
Here is how I get my peanut butter cup fix. There are even more candy-themed options in The Bariatric Foodie Guide to Perfect Protein Shakes (like seriously…there's a whole section titled "Shakes That Taste Like Candy). Check it out!
Option #1: Nik's Peanut Butter Cup Protein Shake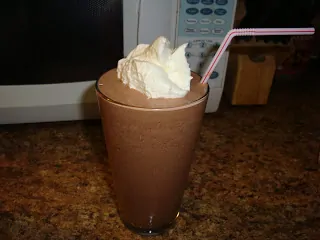 Ingredients:
1 c. milk
1 scoop Chike Chocolate Bliss protein powder (or your favorite chocolate protein)
1 tbsp PB2 (What's that?)
1/2 tbsp unsweetened cocoa powder
No-calorie sweetener, to taste
Ice
Directions:
Blend according to the Triple X Method. Or not. Your choice! You could even skip the ice and make this into a rich, warm drink (here's how) Perfect for fall!
Option #2: Nik's Peanut Butter Cup Protein Frozen Pie


Yeah, why should kids have the market locked on dessert? We can have dessert too! Click here for the full recipe.