One of my biggest crimes as the write of this blog is
assuming you all have read this blog as long as I've written it. Not true!
So many of you don't know that I used to be something of a
calorie zealot. This blog fed into that big time as I sought ways to make yummy
food for the least amount of calories, but the most protein, possible.
To that end I have all these random bits of information
stored up in my head that lately I've been trying to organize into things that
might be helpful to all of you.
Today's topic: Shake additives! Now you all who have
The Bariatric Foodie Guide to Perfect Protein Shakes
know that there are several different kinds of additives you
can use to enhance your shakes. And you also know my additive rules. In keeping
with those rules, here are three easy swaps you can make to your shake
additives to save a few calories, maybe add some protein or subtract some
carbs!
#1: DO USE sugar-free
banana pudding, DO NOT USE bananas!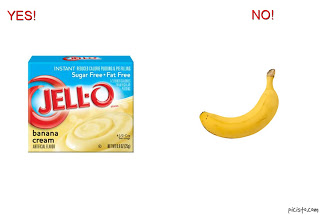 I'll disclaimer that. If you are a tri-athlete, a marathon
runner, weight lifter or generally do super strenuous workouts OR if you have
low potassium and have been advised to eat bananas, go for it. Throw one in
your shake and don't look back!
The rest of us have to tread carefully because they can be a
carb BOMB! I see lots of folks throwing whole bananas in their shakes. And it's
not a bad thing, per se. Especially if you want to go all-natural. BUT if you
are looking to save a few calories but still want your banana flavor, consider
banana pudding. Check out the "comps."
Small banana: 90 calories, 23g carbs, 12g sugar, 1g protein
Sugar-free banana pudding mix (1 tbsp): 25 calories, 6g
carbs, 0g protein
So either way this additive isn't giving you a lot of
protein. So better yet, just use a
banana flavored protein
and cut the middle man out altogether! But if you don't have that, certainly do NOT accept all those extra calories and carbs to get your banana on!
#2: DO USE Powdered
peanuts, DO NOT USE peanut butter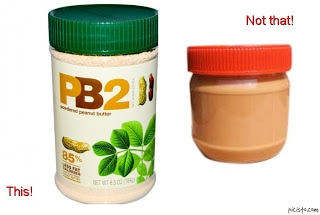 Long-time readers know my love affair with peanut butter.
But alas it's not going in my shake! Why? Well, I hear many of YOU say, when
you put it in your shakes, "it's a
good source of protein!" That's sorta true. Peanut butter is primarily a source
of FAT that has a good amount of protein in it. That's a bit different.
Instead I use PB2, or powdered peanuts. It's what happens
when you steamroll a bunch of peanuts to make peanut oil. You're left with this
beautiful powder that tastes like peanut butter for a fraction of the calories.
Check out the comps!
Peanut butter (2 tbsp.): 190 calories, 17g fat, 7g protein
PB2 (2 tbsp.): 45 calories, 1.5g fat, 5g protein
#3 DO USE Low-fat cream
cheese, DO NOT USE Sugar-Free Cheesecake Pudding Mix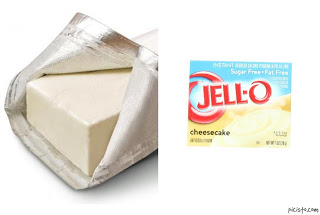 Now this one isn't so great a difference that using the
latter is going to mess up anything. In fact, I discovered this quite by
accident one day. But many of you love cheesecake shakes. And cheesecake
yogurt. And many of you make these thing using sugar-free cheesecake pudding
mix.
The interesting thing about this swap is that my suggested
swap has 10 MORE calories than the thing I say not to use BUT it has less
carbs. And, in my opinion, it yields something that tastes like REAL
cheesecake. I'm sorry Jell-O. Despite your best efforts your mix doesn't taste
like cheesecake to me, but then I am a connoisseur. Anyway, here are the comps:
Cheesecake Pudding Mix (1 tbsp): 25 calories, 6g carbs, 0g
protein
Low-fat (Neufchatel) Cream Cheese (1 tbsp): 35 calories,
0.5g carbs, 1g protein
So for your extra 10 calories you've gotten rid of 5.5g
carbs and picked up a gram of protein and (just to sound like a broken record)
you've also picked up authenticity! And if you pair it with ingredients that
mimic those in cheesecake, like unflavored Greek yogurt (which mimics the taste
of the sour cream used in traditional cheesecake), it gets even yummier. In
fact,
check out this recipe
!
So there you have it. Three sensible shake swaps that will
keep your shakes yummy AND beneficial. Do you have any good swaps that you use?
Share them in the comments! And, as always, PLAY WITH YOUR FOOD!