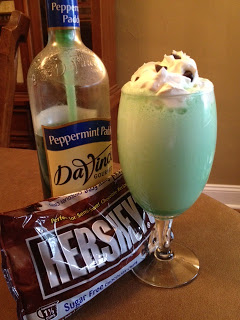 So you may have heard of this holiday…St. Patrick's Day? I keep hearing about a guy who drove snakes out of Ireland but I'm pretty sure the holiday is about wearing green, drinking ale and being promiscuous (if the Baltimore bar scene can be trusted to tell the tale).
You guys have been thinking about St. Patty's Day for a while. Know how I can tell. Because beginning in JANUARY many of you have emailed me asking if I have a protein version of the "Shamrock Shake."
And yes I do! But before I give you the recipe I have to say that this is what I call a "dessert shake," meaning it's a bit higher in calories than a 100% upstanding protein shake might be but it's meant to replace an even WORSE choice you could make. It's still way less calories than an actual Shamrock Shake with no added sugar, very little fat and a LOT of protein. But don't drink this everyday, k? It's a WLS-friendly indulgence.
Nik's Shamrock Shake
Ingredients:
4 oz. milk (whatever kind you use but NOT water0
1 scoop GOOD vanilla protein (I like Fit Frappe Vanilla, Pure Protein or Nectar Vanilla Bean Torte best for this)
2 tbsp Davinci sugar-free Peppermint Paddy or Peppermint syrup (if you don't have this, you can use a LITTLE bit – like 1/8 tsp – of Peppermint extract. But I am SO serious…do NOT overdo it!)
5-8 drops of green food coloring (less if you use the Peppermint Paddy syrup as it's already green)
3-5 ice cubes
Optional (but CRAZY good): whipped cream and 1 tbsp sugar-free chocolate chips (Hershey makes them. I get mine at Wal-Mart!) + a few more for garnish
Directions:

Then add the chips and whiz about 3 seconds more just to distribute them. Top with whipped cream and SLURP!