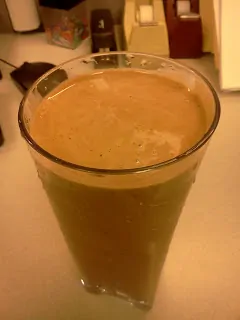 So now that you know the basics, we can explore the many and varied world of great protein shakes. What better way to start off than with a shake that most of us should not have? The Click Frapp. Ok, I'm not going to say you shouldn't have it…but Click has caffeine which is probably a big no-no for most new post-ops but here is the problem.
The stuff is addictive. Not in a "my hands shake if I don't get it" kind of way. More in a "I never want to consume anything else because this tastes so DAMN GOOD" kind of way. That's a problem. But we over at Bariatric Foodie are working on a solution so keep your hats on. We'll keep you posted.
At any rate Click does have a good deal of nutritional value. And the canister just looks damn sexy…you feel like you are a cool kid drinking some exclusive drink that the less cool kids can't have. (or is that just my high school issues?)
Some things you should know about the Click Frapp:
1. It does NOT taste exactly like a Starbucks Frappucino
2. It does taste delicious
3. It is caloric yes…this would be either a dessert shake or a meal replacement shake. Either way the stats aren't horrible…just a bit on the high side for a beverage or even a snack. I tend to do this for breakfast
Classic Click Frapp
8 oz. skim milk (I tend to use Hood Calorie Countdown Chocolate)
1 scoop Click (regular or decaf)
1 scoop of chocolate whey (pick a whey that has at least 25g of protein/100 cals per scoop)
2 tbsp Torani sugar-free chocolate syrup
6-8 ice cubes
2 tbsp either sugar-free or fat-free whipped cream (I use the fat free)
Directions: Combine everything but the ice and whippage and whiz in the blender. Add ice and whiz again. Pour into a pretty glass (or mason jar, or pickle jar…) and ENJOY!
Note that mixing different proteins together is a good way to stack up your numbers. It is not uncommon for me to make a morning protein shake that has every gram of protein I need for a whole day in it. Especially if there are a lot of unknown variables in my day (staff lunch, going out to dinner, etc.).
Here the stats that I get from the Click Frapp. Run your own to accommodate your personal ingredients. 280 calories, 6g fat, 23g carbs, 45g protein



Again…newbies…sorry but you're not going to be able to finish this. My suggestion? Aside from sharing the love…you could cut down to 1 scoop Click + 1/2 scoop whey + 4 oz. milk + a couple of ice cubes.
OR you could do like Starbucks does and save the mix. Get your handy-dandy shaker bottle. Once you've whizzed it the first time, pour half of it into your shaker bottle and refrigerate immediately. Use the other half to make your current Frapp.
When you are ready for another Frapp (preferrably not on the same day…we are trying to change our lifestyles!!!), give your shaker bottle a shake, dump it in the blender, add more ice and you have a second Frapp.
See? Simple.
Wait…the picture! I have to take a picture of this one. In the pickle jar 🙂 For now…trust that it is good…