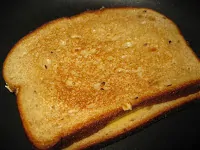 Grilled Cheese!!!
~~posted by Jen
First, a disclaimer (I seem to be doing lots of these lately LOL): Our cool friend Melting Mama reviewed this same product awhile back, and I am certainly not trying to shirt-tail her by reviewing it here. My purpose is to help others in the WLS community avoid spending money unnecessarily and then end up not liking something.
I experienced that quite a bit as an early out. When I first had surgery in July 2008, I can remember seeing reviews of products on OH and immediately going out and buying whatever the item was, only to get it home and not like it. After some trial and error, I learned which product reviewers had tastes similar to mine, and that saved me some serious money! Usually the people whose recipes I liked the most also chose products that I liked.
That is my hope with giving you my opinion on certain WLS friendly products, since everyone has different tastes and liking or not liking a product is very subjective. When I review a "basic" food product (like bread, baking mix, or other "ingredient" foods), I will try several different things with it before I post the review. That way you'll be better able to judge how much you will actually use something before you buy it. With all that being said, on with my review!
Nutrigrains P-28 High Protein Bread, available from Netrition.com for $5.99 a loaf. I've had this loaf for going on 3 weeks now, and still have about 1/4 of a loaf left. I store it in the fridge, no signs of mold or spoilage. It's as fresh and tasty today as it was when I received it 3 weeks ago. (Definitely a good thing for pouchers, since we can't eat much at the time.)

There's no off-putting "protein-y" smell or taste, the texture is what I would describe as "spongy." I made toast for my initial tasting. It tastes….wonderful! I love multigrain bread, and that's exactly what it tastes like!
At first the texture of it takes some getting used to, as with most protein foods. It's a very dense and hearty slice. (I have texture issues, so pardon me if I keep repeating this.) Very similar in texture to the Kirkland brand multigrain bread we buy from Costco. It's bigger than a usual slice of bread, think the Pepperidge Farm specialty breads, that same size. I had to kind of wedge it into the toaster, but it fit.
1 slice is VERY filling, and I am 2 years out. 1 slice of toast was a full breakfast for me, and I usually eat at least 3/4 of a cup of cottage cheese with fruit. If you're relatively early out, 1/4 or 1/2 a slice might be your max serving at a meal.
Next, I tried it for a sandwich. 1 slice of bread cut in half, roast beef, provolone, pickles, light mayo. Heaven on a plate! Now y'all know me. I am all about the ooey gooey cheesy goodness of it all, so of course I had to make a grilled cheese!!
Oh Em Jeebus, as Nik says! It was GOOD!!! I could only eat half (made it with 2 slices of bread), but I reheated the other half later and it was nominous. I fed the non-op boys in my house grilled cheese on the P-28 bread too, and they all thought I used the multigrain bread they normally eat from Costco. They had NO idea it was a healthier, high protein bread! LOVE that!!!
Another cool thing, I usually can't tolerate whey isolate protein powder, but have ZERO issues from this bread! YAY for that! Coming soon…..a breakfast favorite made with this bread, so stay tuned! If you miss bread as part of your post-op life, I highly recommend giving this one a try.
Verdict: Divas Say Divine!