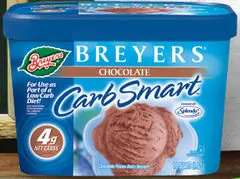 (Obligatory disclaimer: I am NOT "encouraging" anyone to eat ice cream. But recognizing that some of you do, I feel it's good to know there are options that can work in a well balanced diet.)
So the other day I had an intense craving for chocolate ice cream. This has been a tenuous thing. Most no-sugar added or sugar-free chocolate ice creams are either:
decidedly UN-chocolatey or
are REALLY high in sugar alcohols
someone got the fool idea to remove all the sugar AND the fat which is just…wrong…
That being the case, I usually just go for protein ice cream. But get this. At. 3.5 years out, I think I've finally wrapped my head (somewhat) around the concept of moderation. I didn't want a whole other meal (which is what protein ice cream feels like in my system). I just wanted a few bites of some good chocolate ice cream.
So I headed the freezer section at the grocery store and hoped for the best. Usually when I get "un-enhanced" ice cream, I go for either Wal-Mart brand (cheaper with better stats) or Edy's no-sugar added. But my Wal-Mart doesn't carry sugar free chocolate (which is strange because they do have both strawberry and vanilla) and Edy's has many concoctions of chocolate (triple chocolate, etc.) but no plain chocolate.
You ever been in the mood for something simple? That's kind of where my head was.
So I'm scanning, scanning and I come across Breyers Carb Smart Chocolate ice cream. Just chocolate. Not chocolate with a bunch of stuff in it. Chocolate. And that's it. The front panel seemed intriguing. It claimed to have 4g net carbs per serving. That's pretty low but I suspected they weren't counting a ginormous amount of sugar alcohol (the math on net carbs can get complex) so I did what I always do with any food product: I flipped it around and looked at the nutrition panel.
Here are the stats:
Serving size: ½ cup
Calories: 90
Fat: 6g
Saturated fat: 3.5g (this is from the cream)
Trans fat: 0 mg
Cholesterol: 15mg
Sodium: 75 mg
Total Carbs: 13g
Dietary Fiber: 4g (WTF??? Decent fiber? In ICE CREAM???)
Sugars: 4g (lactose from milk and cream)
Sugar alcohols: 5g
Protein: 2g
Ok, so let me first say this (and not just for the newbies but for us all). This isn't health food. But so far as ice cream goes, these are VERY decent stats.
I didn't freak about the fat so much because you just can't remove both fat and sugar and expect something to be decadent. If I have some of this, I know to work around it in my day. The carbs thing ("thing" being the fiber count) is kind of crazy to me. I mean, like I said this isn't health food by any means, but it's nice when you get a benefit like fiber from an indulgence.
But having said all that, I was thoroughly convinced it was nasty.
Well, I was wrong. I got home, scooped into it (and I wish I had gotten pictures but I did not. I will add some in when we have another serving) and it was easy to scoop, easy to get into a little orb to put on the diva's ice cream cones.
For me, I scooped out a half cup serving that I put in a dessert dish and then went about making me a sundae with some zero-cal chocolate syrup, a small poof of fat-free whipped cream and…(you should all see this coming) a sprinkling of Fiber One.
Now the divas were slurping away happily so I had hope. They don't eat nasty food. They just don't. So I dug into my little sundae and guess what?
IT ACTUALLY TASTES LIKE CHOCOLATE!!!
I'm very excited about this. Can you tell?
I didn't get an aftertaste of artificial sweetener. It is sweetened with Splenda so those of you who have sensitivities, beware.
Now I personally am not a frequent dessert eater. Somehow meat always trumps sweet in my pouch. So this ice cream is sitting in my freezer behind a package of frozen Brussels sprouts. I figure that should keep the divas away until I get around to it again.
VERDICT: Diva Says Divine!