So earlier I jumped right into my Laughing Cow recipes without much explanation of how that recipe (or the ones that follow) came to
be.
See, I stalk certain products online. I Tweet about them. I engage with their Facebook pages. I don't really have a purpose in doing this except
to form a good relationship and let good products know that I love them. Such is the case with The Laughing Cow.
You might remember that I encountered "The Cow" at Fitbloggin' in Portland. Just in case your sun does not rise and set on my life, here's a
short (I swear, 8 seconds, a record!) of how it all went down:
After I got back I was going through all my conference literature (because I AM that geek who does that) and I saw a leaflet from The Laughing Cow. So I decided to Tweet them and see if I could maybe get some coupons for their cheeses. I always have TONS of recipe ideas and thought it'd be fun to see if some would work with this versatile, spreadable cheese.
So I Tweeted them and they Tweeted me back and offered to let me try some cheese! I gave them my address thinking they were sending
coupons (although if I was thinking with the other side of my brain it might have occurred to me that one can now email coupons) and a few days later this arrived at my office: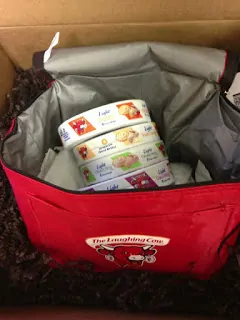 Yeah. This totally blew my mind. I didn't know you couldFedEx cheese!!!
Now if you haven't already guessed this about me, I'm the kind of person who likes to share. So the idea of me having all this cheese by
myself was not nearly as appealing as gathering a group of Foodie friends and all of us having cheese together! And so the Laughing Cow Cheese Cooking Party was born.
My friend Margaret hosted at her gorgeous home. I asked each friend who attended to "sponsor" a recipe (basically buy the ingredients).
Margaret offered up one recipe, I suggested three more for that day. We'd get together and cook them, laugh, talk…you know…the wonderful stuff that happens in the kitchen. So this is the result: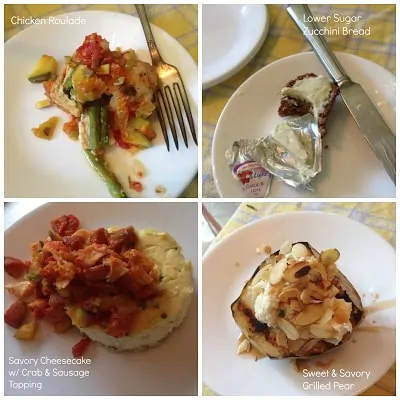 Now let's talk about experimentation. See that wonderful zucchini bread? That was something Margaret had already made because she had a bumper
crop of zucchini in her garden. Originally the fourth recipe was to be a Hawaiian pork slider. And I prepped it up. It had such potential!
But the slider was…not good. This is why I am adamant about testing recipes a few times before posting, Foodies. So that you can avoid the
mishaps that I have so very often in the kitchen! So I'm going to keep working on that slider and will post once it's right. But for now, I'm going to post
the other recipes over the next few days. Each of these recipes got a wonderful reception from all party guests and I hope you'll enjoy them too!