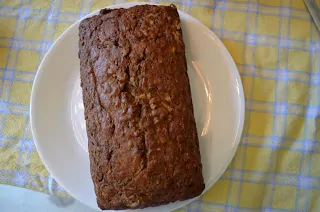 his is the last of the Laughing Cow recipes and for this one we didn't put the cheese in it but on it!
Like I said before, the original plan was to have an exotic pork smashed meatball topped with the cheese but alas the recipe went terribly wrong somewhere. It was dry and crumbly and just didn't taste very good (PLEASE NOTE: See? Even I have recipe fails sometimes!).
Thankfully Margaret had two loaves of wonderfully yummy smelling zucchini bread on which we could try our Laughing Cow Garlic & Herb cheese. Now, I know what you're thinking. "Nik, traditional zucchini bread is sweet. You put garlic & herb cheese on it???"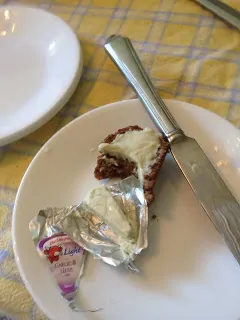 Notice that in the recipes I suggested for the cheese (Savory Cheesecake w/ Sausage & Crab Topping and Grilled Pear with Herb & Cheese topping, respectively) I've played with the notion of how sweet, savory and salty go together. Many folks see "cheesecake" and think dessert, but my savory cheesecake is more like a healthy, comfort food dinner. And many people might scrunch their noses at a pear stuffed with cheese and basil then drizzled with caramel but then you'd be missing out on some intense culinary pleasures.
So bottom line: Play With Your Food, people! It can be very rewarding.
Again, I'm going to send you to Margaret's blog, Feed My Sleeve, for the full recipe BUT I wanted to provide a few swap notes:
You can use an equivalent amount of Carbquik or Atkins Mix (note this product is being discontinued by Atkins! I'm so sad! But that is to say the price in that link is NOT the normal price. If you come across a bag locally, grab it!) for the flour she suggests, although it's noteworthy that she made hers with wheat flour which would be acceptable if you are making it for the family. Again, your guts, your home, your choice!
If you use CQ or Atkins alone you do not need to add the baking powder called for in Margaret's recipe. It already contains baking powder.
However, if you want to replace any part of the CQ/Atkins with protein powder (in this case I think 2 or 3 scoops in place of 1/2 c. of flour would probably work fine) you need to leave that baking powder in!
For my dumpers: Splenda Brown Sugar Blend does have some real sugar in it. Take heed! If you want to avoid all sugar, get your favorite sugar substitute for baking. Since Splenda measures 1:1 for sugar just measure your sugar substitute against sugar and you should be fine. You don't necessarily need a brown sugar substitute (although you may want one for the sake of color). In traditional recipes, brown sugar is used when a certain texture is desired (the molasses in brown sugar can make things more dense, surfaces more crispy, etc.) or for color.
Since Margaret endowed me with a HUGE zucchini from her garden that's held up well through my recent travel, I think I actually might try my hand at making mini-zucchini loaves (much like my
mini-banana loaves
) out of Atkins Mix. If I do, I shall report back!