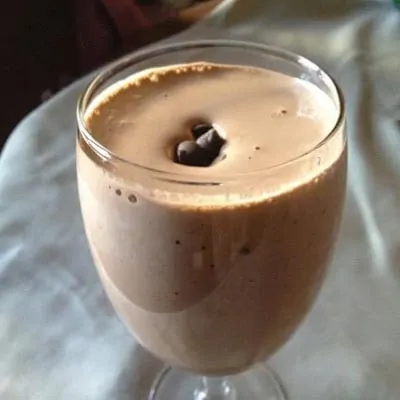 So this protein shake was born a few years ago, around St. Patrick's Day.
And you might find this hard to believe…but I…am not Irish.
Still I'm inspired by St. Patrick's Day. National/Cultural pride is a great thing and it should be celebrated.
Although, today's shake isn't really about that. It's triple chocolate. And much as I am proud of my African-American ancestry…calling myself a triple-chocolate diva is a bit of a stretch. I'm more like "dulce de leche" with a bit more caramel added in for good measure, y'know?
Rather, this shake was the result of a mistake (as many of my favorite shakes are). I wanted a chocolate shake. Just chocolate. Nothing else. But just chocolate protein and milk does NOT do it for me. So I got to mixing. By accident I grabbed an incorrect ingredient that took this shake straight to where it needed to be. One sip and I was in love.
But being the shake scientist I claim to be, I wanted a 2nd opinion. So I called in the other resident shake expert in my house (La Petite Diva) who took one sip of the shake and deemed it a…
1 c. milk (whatever kind you use)
1 scoop
chocolate protein powder
2 tbsp U-Bet sugar-free chocolate syrup (see my notes for substitution ideas)
1 heaping tbsp Hershey's Special Dark unsweetened cocoa powder (that was the accidental ingredient…I meant to use regular)
No-calorie sweetener, to taste (while I say to taste, you should use some to offset the dark chocolate powder)
Directions:
So the U-Bet…it seems to be very easy to find everywhere except where I live. It's no calorie which makes it appealing for shake use, but more than that…it's actually a decent syrup. Now I wouldn't go putting it in my milk alone and calling it chocolate milk (although La Petite Diva does and actually likes it) but it has a "real" chocolate flavor that supports this whole effort very nicely.
If you don't have this syrup in your area and don't want to order it, here's my advice. Order it. (Kidding. Sorta.) I have not tried this yet, but I would imagine you could also use something like Hood Calorie Countdown Chocolate (which is only a few more calories and less carbs than a glass of skim milk). Or you could just omit the syrup and see how that turns out. I'm not exactly sure of the flavor differential between a "triple" and a "double" chocolate shake.
What I would NOT do, however, is use regular sugar-free chocolate syrup (like Hershey's). Unnecessary calories that don't give you much back.
I also would just leave this shake naked. No whippage. Nothing to come between you and the intense chocolatey bliss that this shake provides.
So for those of you who, like me, are not Irish and get goosey off a quarter glass of wine…enjoy a protein drink today. If you want to go more the traditional route, try my Irish Coffee protein shake or, if food is more your thing, do a different spin on corned beef and cabbage with my Reuben ramekins.
But do celebrate…yourself…your life…the sunshine…SOMETHING. It's St. Patty's Day!