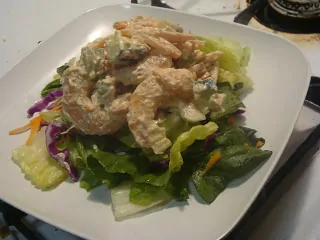 Are you gearing up for that family BBQ yet? If you're early out (or if eating around non-ops works your nerves), be sure to check out my survival guide to summer BBQ's to help you deal.
In the meantime, let's move forward with recipes you might pass. This one is for folks who have families that like (or are receptive to) international cuisine or those who have "adventurous palettes."
It's a spin-off of a submission by my friend Dee who remade a similar chicken salad of mine. So in this one post you are actually getting THREE choices on two different variations of this recipe. Aren't choices grand???
I personally love shrimp salad. I'm from Maryland so I have just always loved seafood. (True fact: My oldest daughter HATES seafood. Being from Maryland I told her it might be easier to allow fellow Marylanders to believe she is allergic to seafood than try to explain that she simply doesn't like it. Seafood is that big a deal here!) What I love about shrimp salad (or any cold protein-based salad, for that matter) is that it is highly customizeable. There are a million things you can do with it! Usually you just need that one idea to spark a bunch of other ideas and off you go!
So I hope this recipe does that for you. If you don't like Thai food, try another recipe combo. Then leave your recipe in the comments. Long story short: play with your food!
Combine shrimp, onion, cucumbers, and carrots (plus celery, if you are using) in a bowl.

In a separate bowl mix together the yogurt, mayo and powdered peanut. If you using peanut butter, nuke it about 15 seconds to soften it up before mixing with the yogurt and mayo.

Once that's well mixed, add your spices and mix again. Taste. The peanut taste should come through and it should be tangy (from the yogurt and lime juice) and just ever so slightly sweet and spicy. If it is all those things, you are good to go.

Heap dressing on top of the shrimp mixture and mix it thoroughly.

Refrigerate until ready to eat!