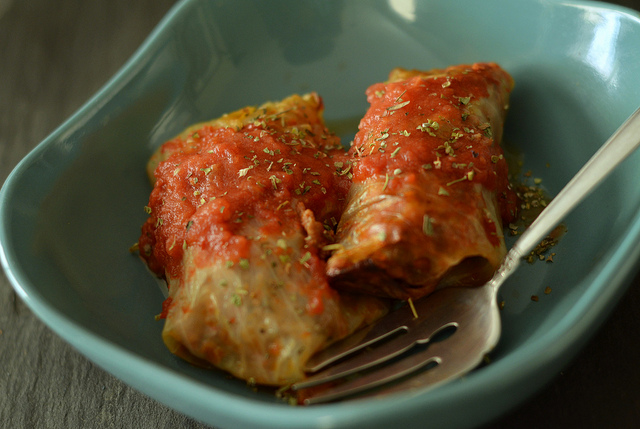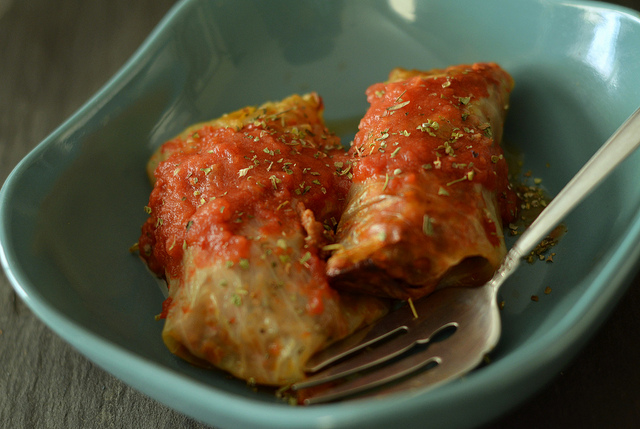 This recipe was developed as part of a partnership between Bariatric Foodie and Celebrate Vitamins. Here on Bariatric Foodie you'll find pictures and helpful recipe hints, then use the button at the bottom of this post to click through to the Celebrate Vitamins website to view and download the recipe, complete with nutrition information!
I'm gonna come out and say it. I don't think cabbage rolls get the respect they deserve.
In fact, I don't think cabbage in general gets the respect it deserves. But I'm about to change all that! Well…at least in my little corner of the world. I love cabbage. Do you? It's a stand-up veggie.
It's filling. It's got lots of water (and who couldn't use more of that?) and it has a good amount of vitamin C. I use it in things like my Comforting Cabbage and Sausage Stew. But a few weeks ago I got a hankering for cabbage rolls.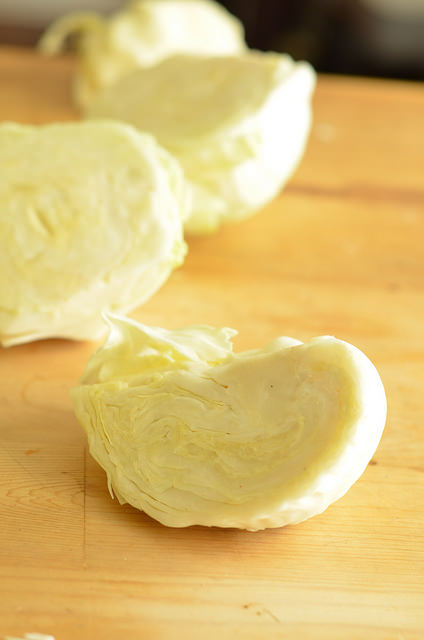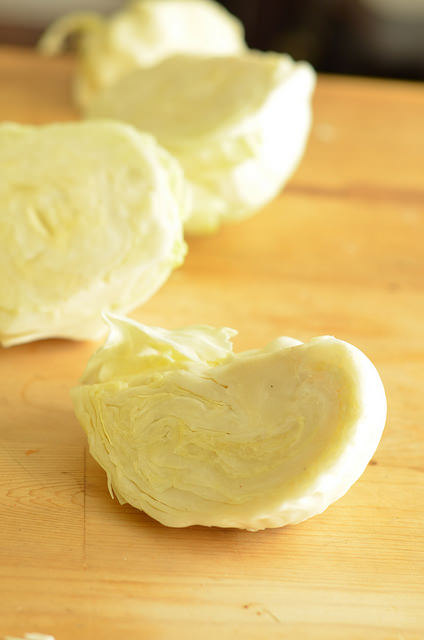 Don't ask me why. I just did. I've made them loads of times before. The best ones I've ever had oddly (or maybe not) were at the Amish market (cuz…the Amish make everything better). S'anyway I set out to make me some cabbage rolls the other day.
That's when two distinct thoughts popped into my head:
Have I ever run the stats on cabbage rolls? How healthy/unhealthy are they?
I wonder if they photograph well…?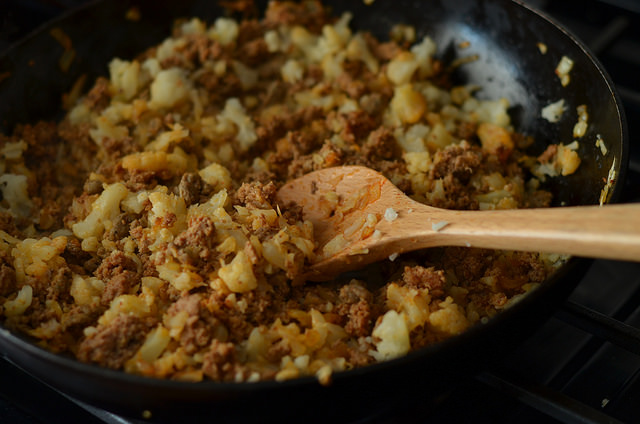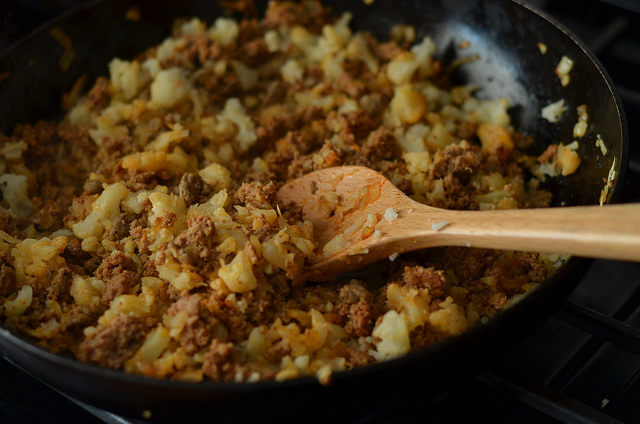 On the first point…most cabbage rolls are a combo of cabbage, meat, rice, some spices and tomato sauce of some sort. Not super unhealthy but they had room to improve, and in ways that were crazy easy to do! I used cauliflower rice instead of regular rice. Lean ground turkey. The sauce was a bit of a genius hack for me. Most tomato sauces are hella high in sodium, and I didn't really want to make one from scratch, so instead I got a can of no-salt whole tomatoes and me and my Nutri-Ninja made tomato sauce magic! (Not really…we just combined the tomatoes with a few simple ingredients and whizzed it a few times, but the former sounds more exciting, right?)
So far as question #2…well…you guys can judge for yourself. How do they look?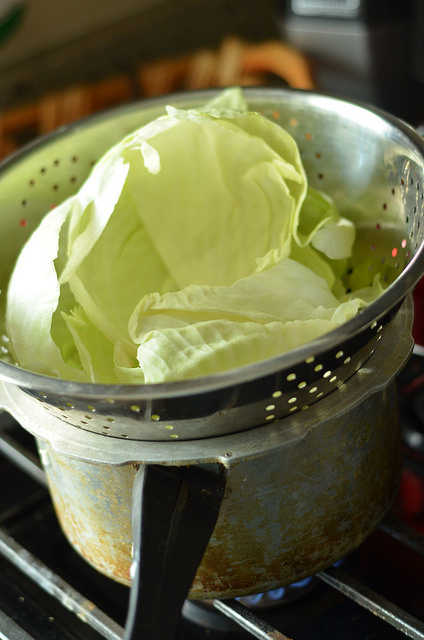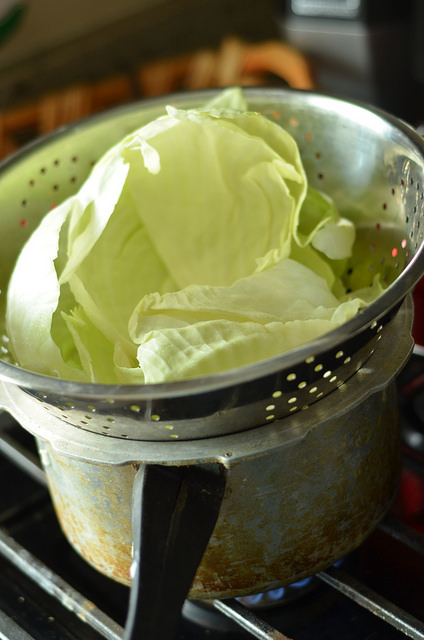 Anyway…I'd love to tell you I'm very suave about making cabbage rolls, but here's the truth. Getting those damn cabbage leaves off the head in one piece is a struggle! I mean a REAL struggle. The picture you see represents three heads of cabbage worth of attempts to get leaves off the head without tearing them. So I could definitely use some advice there. If you've got it, leave it in the comments.
As it stands now, what I usually end up doing, after I get disgusted by my ineptness, is cutting off the stem and steaming the entire head of cabbage until the larger leaves come loose. Which is probably counterproductive but in the end, it works!
I decided to make this recipe smoky because…well…if you haven't noticed I've been sort of obsessed with smoked paprika lately. It's so good! And it goes with EVERYTHING. Like…seriously. Well wait…probably not sweet stuff (although maybe?) but in savory stuff, you can take it from "blah" to "aah" in about half a second by adding some smoked paprika in there.
So I pretty much have been putting it in everything. Because the Amish. They sold me a big ass container of it. For like $3. (Did I mention how much I love the Amish?)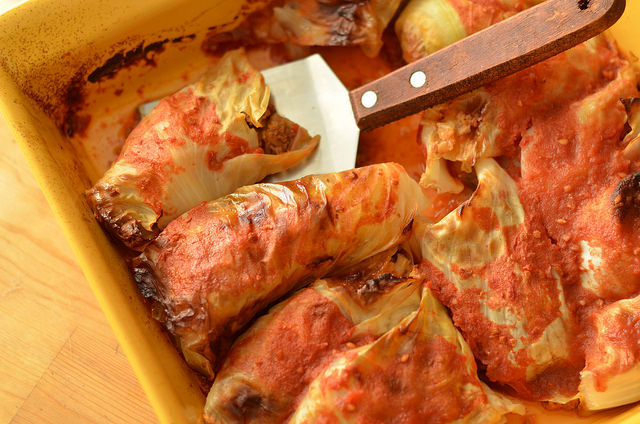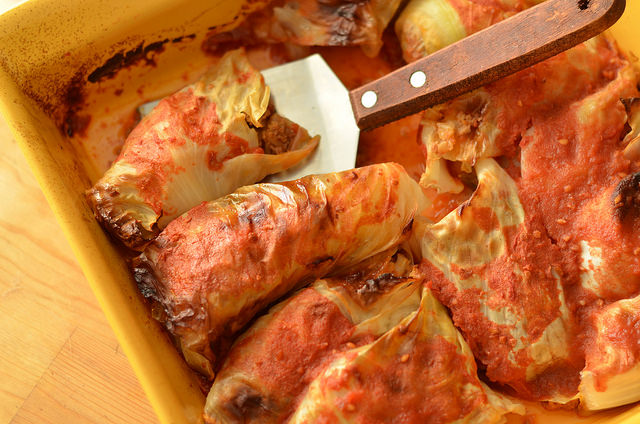 Besides that, this is a pretty standard recipe. I will say I don't make my cabbage rolls soupy and I like them "well done." That is to say I cook them until the tops have browned. I usually either reserve or make a bit of extra sauce to go over them after they come out of the oven, but I just like the texture of the well-done cabbage rolls. You guys cook your conscience, ok? Use more sauce than I call for if you like it to be soupy or have a lot of sauce. Mine is still very tender (I've learned the tenderness has more to do with how well you steam the leaves at the beginning…at least for me) and I love, love, love it!
So, cabbage, my apologies if I've not given you your due over the years. You definitely are a winter favorite of mine – and I appreciate you!
Now…hop on over to the Celebrate website and get this super easy, super comforting recipe!
Like this article?
There's more where that came from. Subscribe to my e-mail list to get the good stuff straight to your inbox!