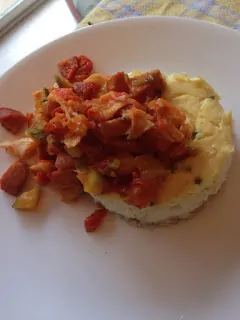 Like I've said many times on this blog, I draw inspiration
from many places. The neat thing is that my brain retains stuff a LONG time.
The inspiration for this recipe was an episode of Diner's,
Drive-Ins and Dives, which I tend to watch while on the elliptical machine (not
to be confused with 30-Minute Meals, which I watch on the treadmill or Jersey
Shore, which I watch on the recumbent bike).
Guy Fieri was in Florida at a place where a man made a
savory cheesecake topped with a Sausage & Gator sauce. I loved the idea of
the savory cheesecake. Being a Mid-Atlantic girl, I did not love the gator part. (SIDE NOTE: To be fair, I wonder if Gator
meat is to Florida as crab meat is to Maryland?)
So that was my suggestion for this shindig. Now I did
something I rarely do at this party. I went in with a "blind recipe." This
means I had the recipe all worked out in my head but I'd never made it before,
had no idea if it really tasted good. I usually never do this. And the failed
pork slider is a good example of why! I like to think I'm as humble as the next
guy but my ego suffers when people don't like my food!
Thankfully, this got thumbs up from all the party-goers. I
have Margaret to thank for the topper. We used leftovers from her Roulade salsa
and it was MARVELOUS! The cheesecake made it feel like comfort food. I wasn't
sure if I'd like a savory cheesecake but now I can say with assurance I do! And
this one is good because it's made in a mini-springform pan! So for most of us,
this is no more than three servings.
Savory Cheesecake
with Sausage & Crab Topping
(Makes two mini-cheesecakes)
Ingredients for the Cheesecake:
1/3 c. cottage cheese, blended to smooth out the lumps
¼ c. ricotta cheese
4 triangles Laughing Cow Queso Fresco Chipotle cheese
1 small jalapeno pepper, de-seeded and chopped fine
2 tbsp finely diced onion
1 egg (or ¼ c. Egg Beaters)
For the crust: 1/3 c. whatever high fiber cereal you like,
crushed (we used Shredded Wheat) + 1 tbsp butter
Ingredients for the Topping: (this is my intended sauce not Margaret's sauce – we went where the mood took us – but when she sends along her recipe, I will post it!)
Ingredients
1 tbsp. extra-virgin olive oil (or non-stick cooking spray)
1 log Andouille sausage, cut into half-rounds
1 small zucchini, diced
1 small onion, diced
1 clove garlic, minced
1 tomato, diced
1 jalapeno pepper, seeded and finely diced (skip if you don't like any heat)
1/2 c. real or imitation crab meat
1/2 c. of water OR white wine (your body, your choice)
1 tsp. Herbs de Provence (or your favorite fresh or dried herb blend)
1 tbsp. tomato paste (which Margaret says is unnecessary for most sauces but I like to thicken it up a bit!)
Directions:
Preheat your oven to 350 degrees.
In a bowl (or a zip-top bag as we discovered), combine
cereal crumbs with butter until well mixed. Press mixture into the bottom of a
mini-spring form pan
and bake for 10 minutes.
In a bowl, combine cottage cheese, ricotta and Laughing Cow
wedges. Stir until thoroughly combined. Add jalapeno and onions and mix again.
Add egg and mix again until thoroughly combined.
Pour half of mixture onto the crust in the
mini-spring formpan
. Refrigerate the rest until you want to make it (it'll keep about 3 days in
the refrigerator).
Place the mini-spring form pan in a small baking dish and
surround it with hot water.
Put the baking dish in the oven and bake for about 30
minutes or until it is set (it should develop a "crust" on top and be semi-firm
to the touch). Turn off the oven but keep the cheesecake in the oven until the
oven is cooled (about another 15-ish minutes).
Meanwhile, to make the sauce, heat your oil in a pan and add your sausage. Cook until they have a slight crisp on them. Add all veggies except garlic, jalapeno and tomato and saute about 3 minutes or until tender. Add garlic, jalapeno and tomato and crab meat and drop your heat down to medium. Allow it to simmer for about 10 minutes (the tomatoes will release a good deal of liquid but don't worry if you get some pan crud). If you do get pan crud after the 10 minutes, lift it with the water or the wine by pouring it in the pan and gently scraping it off the pan with a wooden spoon. Add tomato paste and herbs and stir in completely and allow it to simmer about 5-7 minutes more.
When the cheesecake is done run a knife along the perimeter
of the pan before releasing the spring form and lifting the ring. Then, using a
butter knife, gently slide the cheesecake off the bottom of the pan and onto a
plate.
Top the cheesecake with the crab and sausage mixture and
serve!