~~posted by Jen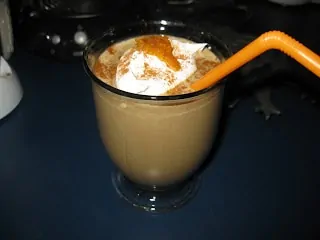 So everyone's all aflutter about Starbucks having their new fall items back on the menu. Nik has already created an awesome knockoff version of their Chai Latte, so I thought a protein shake version of the Pumpkin Spice Latte might be in order! Especially since I scored some canned pumpkin for 89 cents a can at Aldi yesterday, and many of our faithful readers seem to have a hankering for some pumpkin recipes!
I know I promised y'all the scrumptiously delicious breakfast concoction I made yesterday, but we have lots of new post-ops in need of shake ideas. The breakfast recipe is coming, I promise!!
Not to mention that I've had a crazy day today between doctor appointments, the contractor coming over to give a quote on the disastrous remodel project, and taking care of the dogs. By dinner time I did not feel like bothering with food, so I decided to do what Pouch Party ™ divas do best and Shake It Up! This shake was JUST what I needed today!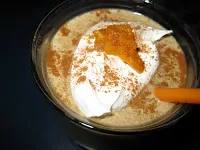 Jen's Pumpkin Spice Latte


Ingredients:
12 oz 2% milk (or whatever kind you use)
2 scoops Vanilla Latte Click
(OR for decaf version substitute 1 scoop vanilla protein powder and 2 tbsp decaf instant espresso)
2 packets Splenda
2 pumps Davinci SF Pumpkin Pie Syrup

2 tbsp canned pumpkin
1 tsp Pumpkin Pie Spice

SF whipped cream for garnish (optional)


Directions:
Pour milk into blender cup first, then add remaining ingredients except the whipped cream. Whiz it up in your blender until thoroughly mixed. Pour into a pretty mug and top it with whippage and a sprinkle of cinnamon. I also put a small dollop of the pumpkin atop the whippage, just to make it purdy.


Not a fan of coffee? Follow the recipe linked in the first paragraph for Nik's Protein Chai Latte and add 2 tbsp of pumpkin to it! Voila', you've got a Protein Pumpkin Chai Latte! Happy Fall, y'all!