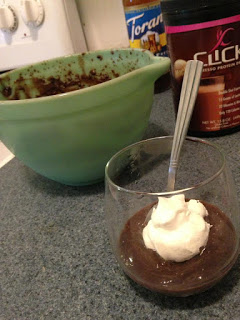 OBLIGATORY "FED" DISCLAIMER: Per Federal Trade Commission (FTC) guidelines, Bariatric Foodie discloses that Torani provided the reviewed product free of charge for the purposes of this review. Bariatric Foodie publishes fair, unbiased reviews. The opinions expressed in this review are those solely of Bariatric Foodie and are opinions, which have not been reviewed by the Food & Drug Administration, and do not seek to replace the advice of a nutritional or medical professional. Please seek the advice of a nutritional or medical professional for any and all concerns about food products after weight-loss surgery.
(Before I get to the business of the day, have you checked out the "Bariatric Foodie Play With MY Food " Contest yet? Seriously, it's a chance to win $50 for cooking a healthy dinner. You should do this!)
I deemed this week "Pre-Op" Love Fest on Bariatric Foodie. That's mostly been happening on Facebook and Twitter where we've had pre-op themed discussion questions. I've also started doing what I call "cook-alongs" on social media, where I post in real time what I'm cooking. In honor of my pre-ops, yesterday I did a cook-along where I demonstrated how quick and easy it is to make protein pudding!
Alongside that, late last week I received this in the mail.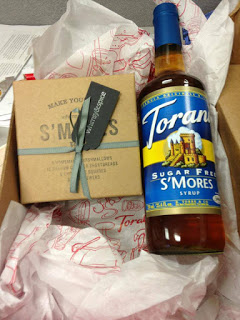 I'd heard about Torani sugar-free S'mores syrup and was curious to try it. Would it really taste like S'mores? I wanted to find out! So since I didn't want to make just plain protein pudding I figured I'd make S'mores protein pudding!
Nik's S'mores Protein Pudding
(Makes about six 1/2 c. servings)
Ingredients:
1.5 oz. box sugar-free chocolate instant pudding
2-3 scoops of your favorite chocolate protein powder (I used 3 scoops of Click because the scoops are small. if you use a protein powder with bigger scoops, use just 2)
2 c. milk (on Facebook we discussed whether you can really use soy, almond or coconut milk. Many Foodies reported success, but said they use slightly less than 2 cups)
2-3 tbsp.. your favorite kind of sugar-free syrup, (I used Torani sugar-free S'mores)
Directions:
In a mixing or
batter bowl
, combine pudding mix and protein powder and whisk them together until well incorporated.
Add milk, then syrup.
Using a
hand mixer
, beat the mixture on medium speed for 2 minutes, then high for 2 minutes.
Refrigerate for 30 minutes to allow it to set. It should look something like this: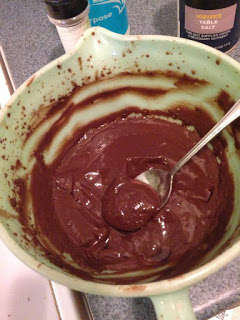 So about the S'mores syrup. I like it! If you'd like to see my precise initial reaction watch this video:
I love how they managed to incorporate all three major flavors of a S'more: chocolate, marshmallow and graham cracker! I marveled at how clearly you can taste and smell graham cracker.
This syrup would be a great addition to any protein treat. Try mixing it into one of
my protein shake recipe
s using the
Triple X Method
. Or make protein ice cream. Or protein pudding. Or it would go great in this protein frozen pie!
The point here is that Torani hit this one out of the park. Thank you, thank you, thank you for providing so many delicious sugar-free syrups to play with!