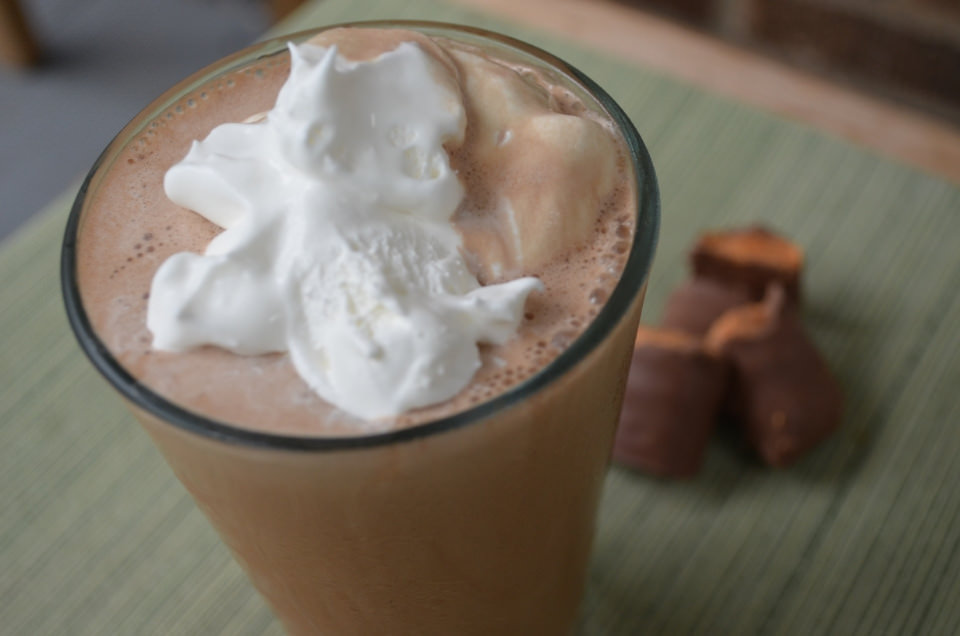 In the beginning there was the protein shake. And it was milk and it was whey and it was NOT GOOD! Then the protein gods said "let there be flavor" and there was flavor…and it was good!
By and large WLS has vastly reduced my sweet tooth. Lemme tell you…I useta could put away a whole pack of Oreos by myself. Yep. Big glass of milk and my trusty TV (set to "the Biggest Loser" natch) and it was gloppy cookie perfection. After surgery the requisite changes in hormones made me more a salty/savory girl and then the fact that I dump sealed the deal. Thus the tortilla chip
won over the Oreo.
But every now and again I miss candy bars. Wonderful, chewy, crunchy, chocolatey, peanut butter, toffee, nougat goodness (quit drooling on me…). Sadly I cannot have a candy bar (except for dark chocolate…the pouch seems ok with approximately three squares at a time of it). Once I tried a bite of a Twix (I only wanted one bite…) and the pouch put me on notice REAL quick.
So I have no choice but to satisfy my cravings with protein shakes. Sigh…such is life for me. But it's not all bad. In fact, to me it's better. Take a Butterfinger for example. It's a bar. It's small. It's got a gabillion calories…and it's over pretty quickly. My Butterfinger shake, however, is ginormous and thick and wonderful and takes me a while to eat. It's like having four Butterfingers instead of just one.
Nik's Butterfinger Protein Shake
8 oz. skim milk (I like Hood Calorie Countdown…saves you 35 calories and 9g of carbs)
1 scoop chocolate whey
1 tablespoon sugar-free, fat-free butterscotch pudding mix
2 pumps sugar-free peanut butter flavored syrup
1 tsp unsweetened cocoa powder (optional but it does help)
1 tsp good decaf instant coffee (you don't taste the coffee…it just makes the chocolate taste more chocolatey)
If you are like me and like it a little on the crackhead side: 2 packets of Splenda
Directions: y'all know the drill right? Put it in a blender. Whiz it. If you like it like a triple-thick milk shake, add enough ice to break the surface of the liquid and whiz again. Pour in glass, top with whippage (aka whipped topping) and enjoy.
But that's not where my love of candy-themed shakes ends…
No, no…the Butterfinger is just the beginning!
Have you checked out my book yet, The Bariatric Foodie Guide to Perfect Protein Shakes? There's an entire section on candy-themed shakes. We're talking Reese's Peanut Butter Cups, Twix, and more! If you like candy (or are just looking for ways to jazz up your protein shakes) this book is for you!