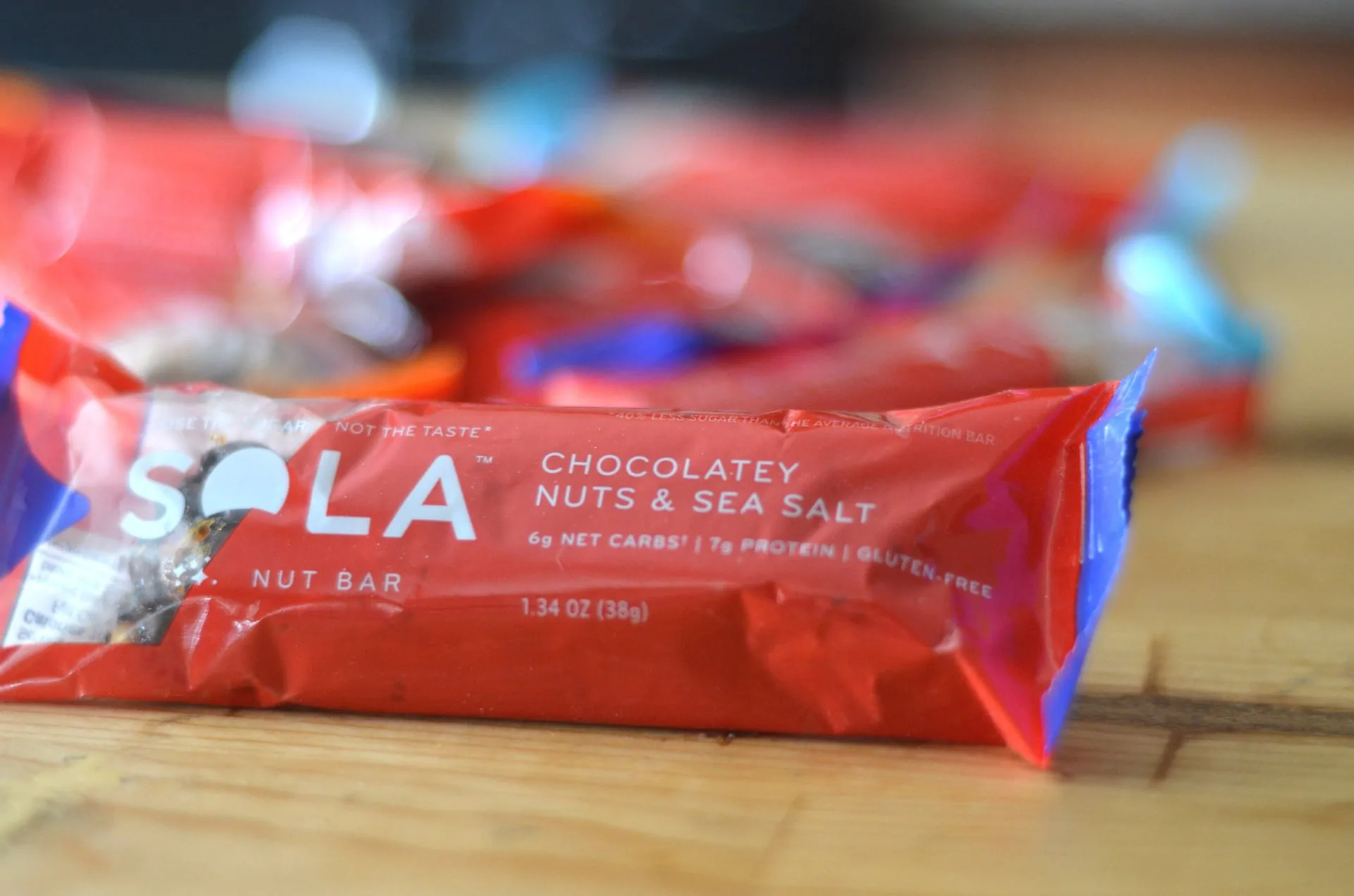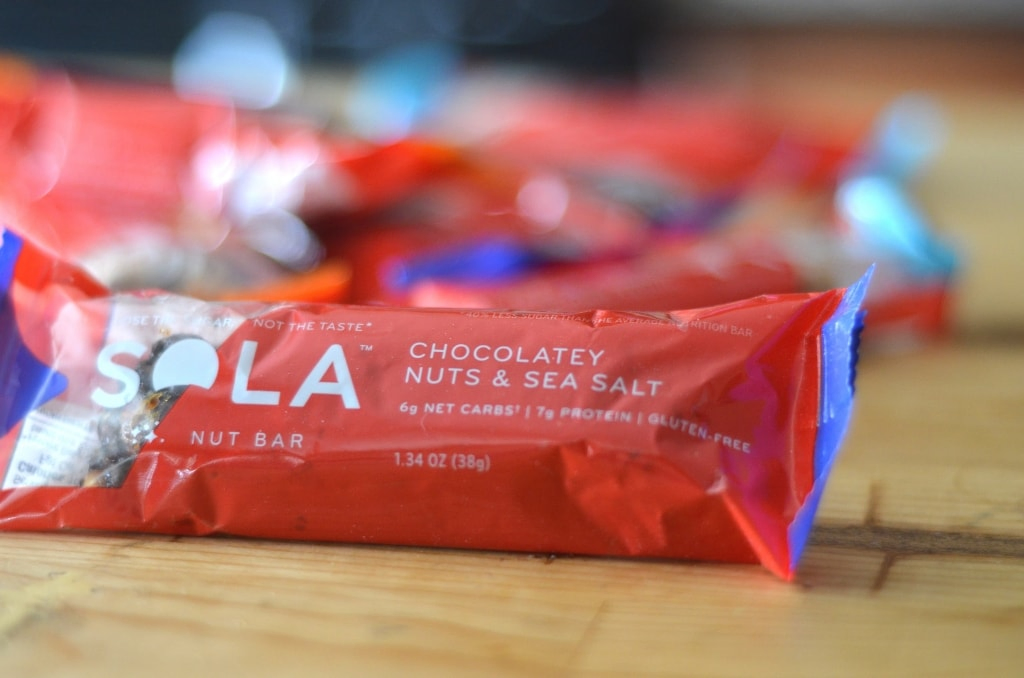 This post is part of a mega-review of Sola's full product collection. Click here to get back to the review home page. 
I broke one of my most fundamental rules with this nut bar review. And it almost jeopardized the whole damn thing.
You see, I have this policy of not trying a review product until it's time to do the review. Generally I request at least two of each product I'm reviewing (one to try, one to photograph). Sola was generous enough to send me a few of each nut bar flavor. So I was lulled into a false sense of security, you see. And I tasted one.
Big. Mistake.
Spoiler alert: These nut bars are goooooooooood. And so I almost ate them all. Before I had all my photographs. BAD NIKKI!
Ok, let's back it up for a moment and go through the usual paces with this product review. But I felt the need to confess that up-front and absolve myself of the guilt of almost denying you a good product review. Thankfully, the thought of actually doing that was enough to get me to back away from yummy nut bar goodness and toward my camera (so I could take the damn shots and proceed with my noshing!)
Anywho. Hi. How are ya? Let's do this review.
The Flavors/Stats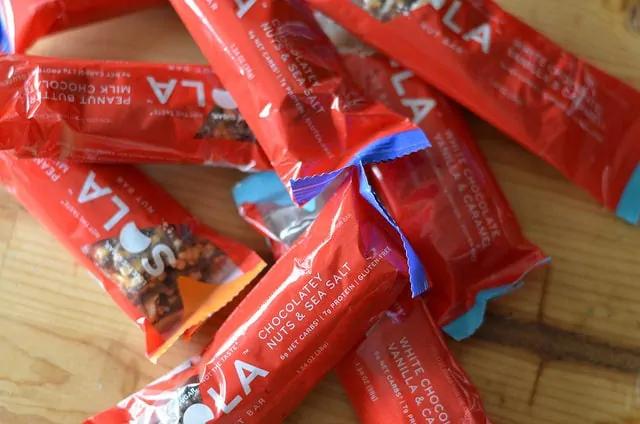 There are three flavors of Sola nut bars. Here are the flavors and their stats. Also, here's the link to where you can do a deep dive into their ingredients. The serving size on each product is one bar.
Peanut Butter/Milk Chocolate: 170 calories, 12g fat, 15g carbs, 3g fiber, 4g sugars, 3g sugar alcohols, 7g protein.
White Chocolate/Vanilla/Caramel: 170 calories, 11g fat, 16g carbs, 3g fiber, 4g sugars, 4g sugar alcohols, 6g protein.
Chocolatey Nuts & Sea Salt: 170 calories, 11g fat, 15g carbs, 3g fiber, 4g sugars, 3g sugar alcohols, 7g protein.
So there's a few things to talk about here. You'll notice that each of these bars has a small amount of sugar alcohols (maltitol to be specific). That, along with the allulose (a sweetener that has no absorbably calorie content) get subtracted from the carbohydrate count. So each bar is about 5g net carbs.
The Aesthetics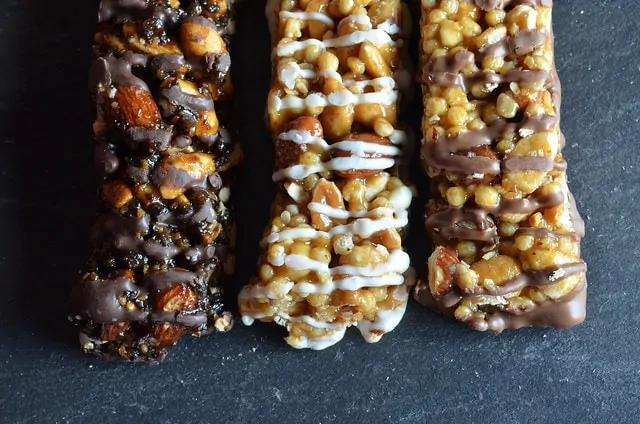 Can we just gaze at these a moment? Like seriously. Can we?
I got a little carried away photographing these bars because they were so dang photogenic! But here are the main things you need to know about the aesthetics:
The bars aren't big, which is good in my opinion. They wouldn't be overwhelming for most post-ops. (Newbies, you are probably the exception!)
They all smell ahhhhh-mazing. Especially the Chocolatey Nuts & Sea Salt (which, yes, my inner 12 year-old dies every time I say that, thanks for asking!)
While they each have a back coating and a drizzle on top they pull apart very easily. They aren't super dense, like a protein bar.
The Flavor/Texture
So remember how I said I almost ruined the review because I tasted these first? Yeah. Well. They taste good! But I wanted to get a second opinion so I (painfully) shared half of my remaining bars with La Petite Diva (my youngest daughter. I present both our findings here:
Peanut Butter/Milk Chocolate:

Me: Nice chocolatey flavor. The peanuts come through in the nuts but it doesn't strongly read peanut butter to me.
LPD: It's about what I expected before I bit into it…

White Chocolate/Vanilla/Caramel

Me: I'm not a rabid fan of white chocolate, vanilla or caramel, but I will admit the flavors are true. And it's not overly sweet, so there's that. But still…#teamchocolate!
LPD: I actually liked this one. It's yummy. Do we have another one?

Chocolatey Nuts & Sea Salt

Me: (In my Eartha Kitt voice) Well hello, loverrrrrr…
LPD: Meh. It's good but I liked the milk chocolate one better.
So I think it's fair to say that while we both liked all three bars, my favorite was the Chocolatey Nuts & Sea Salt and LPD's fave was the White Chocolate/Vanilla/Caramel. We both listed the Peanut Butter/Milk Chocolate as our runner-up.
The bar I think this most closely aligns with is something like a KIND bar, which is also made of mostly nuts. The advantage of this bar over a KIND bar, though, is the top and bottom coating. On this bar it's a bit…thicker? Richer? I can't describe it but the coating makes this bar really good and the texture is very nice. It holds together but it isn't overly chewy or hard to bite.
The Value
On Amazon these bars are $21.99 for a box of 12. Like with the bread review, my assessment can't really be straight up in alignment with my price-per-protein-gram metric because this isn't specifically a protein product. But still, let's run that number and see what it gets us.
$20.99 for 12 bars = $1.74/bar
$1.74 a bar/6g protein per bar = $0.29 per protein gram
While that's in the higher range of things I've reviewed, once again, keep in mind this is NOT a protein bar! I was unable to compare the Amazon price to the in-store price because the bars weren't in my local Harris Teeter. You can check to see if they are carried at your local store here. Be sure, after you search by your location and get results, to click on the link that says "X products" (1, 2, 3…). If you click on that, you'll see which products are carried in that particular store.
The Verdict
I really liked these bars. All of them. But especially that Chocolatey Nuts & Sea Salt. I think that one captured my heart because it has that slightly "ooey, gooey" factor that I love.
Overall, let me put these bars in perspective for you though. This is not your bar you're using to get all your protein for the day. What I found it helpful for, however, was eating it approximately 90 minutes before my Zumba class. I did that the first time I tried (snuck) a bar and I had hella energy throughout the class! I thought it was a fluke, so I purposely tried (snuck) another bar before another class – and it happened again!
That shouldn't be surprising. The nutritional profile is really good for a pre-workout snack. It's got some carbs, some protein, some fat. Those are all energy sources that burn at different rates and my body went through them ALL during that Zumba class!
To find out if the Sola Nut Bars are available at a store near you, be sure to visit the Sola website!
Oh…before you leave…have you checked out the 2018 Bariatric Foodie No-Flour, Sugar-Free Cookie Collection? If not, here's the complete rundown on this year's cookies, all made with Sola sweetener! Or, if you're more of a "cut straight to the chase" kind of person, you can fill out the form below to download the recipes into a FREE ebook!