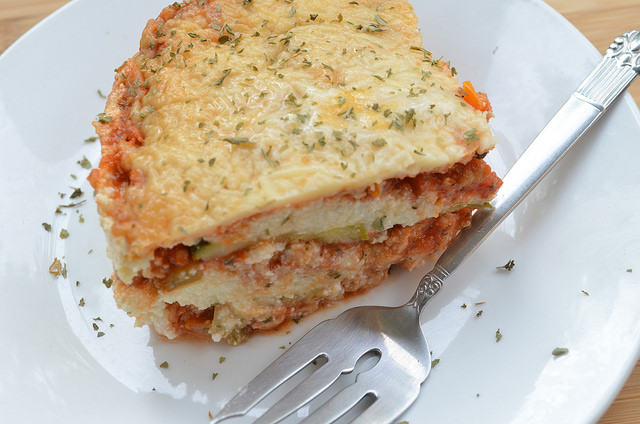 This recipe is one of many delicious dishes featured in Bariatric Foodie's latest cookbook, Oodles of Zoodles: Your Jumpstart Guide to Zucchini Noodles. Check it out today!
So…obviously this Noodleess Lasagna isn't a completely new recipe. When this post was originally published (about…five-ish years ago)…trust me…it was vanguard! But nowadays this is one of the most popular low-carb recipes out there. Because…um…lasagna??? Hello? Ultimate comfort food! And it's low-carb? Hell yeah! Sign me up. Sign us ALL up!
So yeah…let's talk noodle-less lasagna. Because there are a bunch of ways you can go about making it.
The most traditional way is to use thick slices of zucchini which is what I did here. BUT you can also do it several other ways including
Eggplant (I'll explain the pro's and con's in a moment)
Alternating high-fiber (Dreamfields) lasagna noodles with the veggie of your choice
I've heard tell of people making this with cabbage leaves. I have never tried this and I admit I'm sort of skeptical. As you'll see in my instructions you sometimes have to go to great pains to control the water content of this thing and cabbage is FULL of water. If you make this out of cabbage and don't get a bunch of liquid, hit me up and share your secret!
The water content is the reason why some folks use eggplant instead of zucchini. It has far less water. In fact when you roast or bake eggplant, it sort of acts like a potato in that it crisps up, so pairing it with the lasagna (that has sauce) can yield a nice texture.
I prefer zucchini. Eggplant can be tough to cut into and, depending on the age of the eggplant you are using, can be "seedier" than zucchini. But a plus would be that if you skin the eggplant, it passes for a noodle much more easily!
OH MY GOSH YOU GUYS!!!
So those of you who have been following Bariatric Foodie for a while know my oldest daughter (also known as "La Grande Diva") is a bit of a…selective eater. She does not like Noodleless Lasagna and further believes it's not "real" lasagna. I have always been rebuffed!
That's why a few months back I wrote into my FAVORITE food podcast, The Sporkful, to get some backup from host Dan Pashman. And guess what? He had me on the show! We talked all about what it's like to turn your world upside down by having weight loss surgery, how hard it is to get your family on-board with healthier habits and…we settled the lasagna debate. Did the verdict come out in my favor? You have to listen to find out!

Here are a few cooking notes based on the feedback I've gotten about this recipe.
IF YOUR LASAGNA STILL SEEMS A BIT WATERY:
Put it on a baking sheet and bake it without cheese on top for about 35 minutes. Then add cheese and bake until cheese is brown around the edges and the whole thing is bubbly (about 20 additional minutes). Usually baking it without the cheese will allow some of the water to evaporate.
IF YOUR LASAGNA SEEMS GOOD TO GO (either way there will be more liquid than with a traditional lasagna but I find a jiggle test is a good indicator. If you jiggle your baking pan and there are waves in your lasagna, it's got a good bit of water going.)
Want even more Zoodle ideas?
Zoodles! Zucchini + noodles = Zoodles. They are the latest craze in low-carb and with summer right around the corner, TRUST ME, you are going to want to know how to cook with these bad boys because zoodles? Make pasta possible for weight loss surgery patients!
That's one reason my next book is Oodles of Zoodles, a recipe book that breaks it alllll down. We go into:
What size zucchini to buy when you are cooking for one, two, three or a whole army of people!
How to cut zucchini into various fun shaped zoodles!
How to cook zoodles so that they stay "al dente"
How to preserve zoodles so you can keep eating them all week long – because you WILL want to!
The book is slated to be released this summer. Want first dibs at it? Join my ZNS (Zoodle Notification Squad) and you'll get very first notice when it hits on Amazon, an exclusive discount on the book AND a chance to win it for free!
Preheating your oven to 350 degrees
Slice zucchini length-wise into long flat slices. Place them on a paper towel and sprinkle them with salt, then allow them to sit 10-15 minutes to draw out excess water.

You can either cook them from raw or you can roast or grill the zucchini, which removes even more water.
Set a large skillet over medium heat and allow it to get hot. Add oil and swirl around pan.

Add onions and green pepper and sautee until softened (about three minutes).

Add garlic and meat and brown meat, while mixing in vegetables. Cook until meat is done all the way through

Add spaghetti sauce and stir. Drop the heat to low and cover the pan. Allow the sauce to simmer about 15 minutes. It should turn a darker shade of red.
In a mixing bowl, combine ricotta, cheese, pepper and egg and mix thoroughly.
in a 9 x 13 casserole dish, place 1/3 of your meat sauce mixture. Top with zucchini "noodles." The spread a layer of the ricotta mixture on top of that.

Repeat that layer and then top the whole thing with the remaining 1/3 of the sauce.

Sprinkle cheese on top and Italian seasoning for garnish, if desired.

Bake at 350 for 40 minutes or until cheese is browned to your liking.