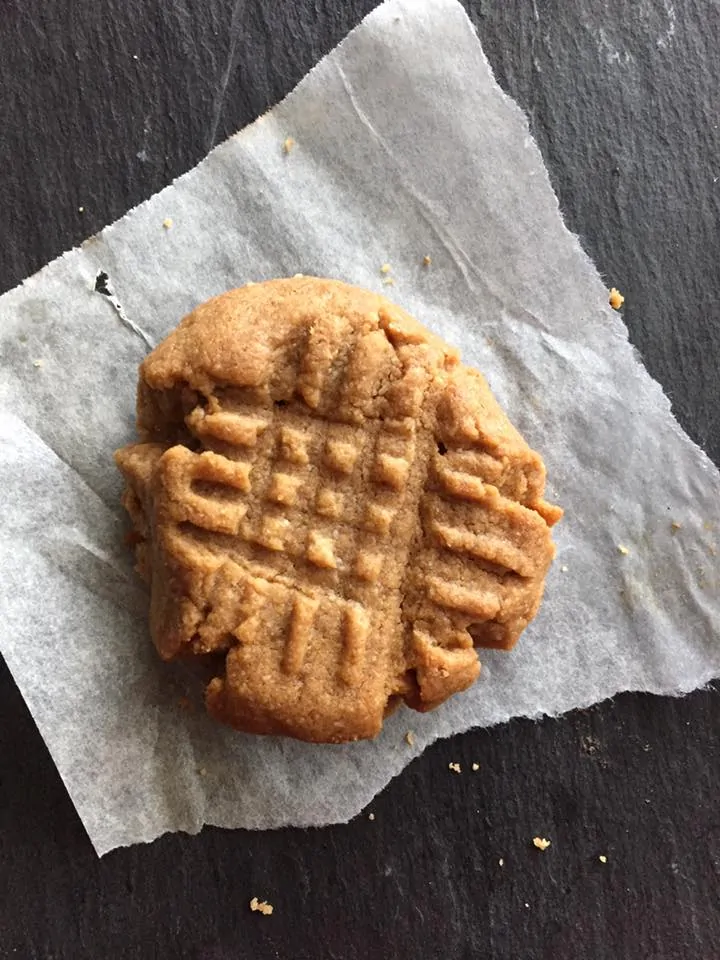 Oh peanut butter. How do I love thee…let me count the ways!
Now I will preface this recipe by saying that it is possible to lower the fat significantly in this recipe by replacing some (not all) of the peanut butter for peanut flour. I did not choose to do that, but it is definitely a choice you could make.
For me, fat has always had its advantages.
Firstly, fat just makes stuff taste better. And of all the fats in the world, fat from peanuts is far from the most objectionable. But beyond that, fat has a special property that I look for when I am making (and plan to consume) cookies.
I can't eat much of it! Which means that I can't eat but one of these cookies without feeling like I'm 3/4 of the way through a full-sized Thanksgiving plate. Thank you, peanut butter!
So part of my preference for the full-fat version is taste and texture and part of it is satiety factor. As I have said in this little cookie series (ad nauseum), cook your conscience, Foodies. (All together now…) Know thyself! You know what will make you sick and what won't. And deep down you know if cookies are dangerous territory from the git-go. Use your best judgment.
That said, if you'd like to lighten up this recipe here are a few tips:
As I said some of the peanut butter (half to be precise) can be replaced with peanut flour.
You can also use egg whites in this. The peanut products provide all the fat you need.
You can certainly use all no-calorie sweetener in this recipe (you'll see I've used Splenda Brown Sugar blend), and the recipe works fine. Just make sure to check your conversions on the website of your favorite sweetener!
Of all the cookie recipes I've shared, this one lends itself best to protein powder, but I wouldn't use more than a scoop or two (1/3 c.) max or the texture is going to get weird. To add protein, you'd just mix it into the almond flour before mixing that into the wet ingredients.
Lastly, no you aren't seeing wrong. I did not add any baking soda or baking powder to this recipe.
I don't think there's anything else to say about this cookie. It is simple. It is brilliant. It is delicious!
Want all the cookies?
There are lots more Bariatric Foodie no-flour, low-sugar cookie recipes and you can get them all in one handy download! Order Cookies! The Complete Bariatric Foodie Cookie Collection, a PDF e-book featuring every cookie recipe from every collection! Proceeds from the sale of this cookie book help keep Bariatric Foodie (and the cookie recipes) flowing!
Preheat your oven to 350 degrees and line a cookie sheet with parchment paper.

In a bowl, mix together peanut butter, egg white, vanilla extract, cinnamon (if using), and brown sugar blend. Mix thoroughly. (I use a hand mixer on medium speed.)

Add in almond flour and mix again until thoroughly combined.

Roll dough into balls and place about 2 inches apart on your cookie sheet. Spray a fork down with non-stick cooking spray and mash the dough ball down into a flat disc, making a criss-cross pattern on the top of the cookie.

Bake for 15 minutes, then cool on a rack.