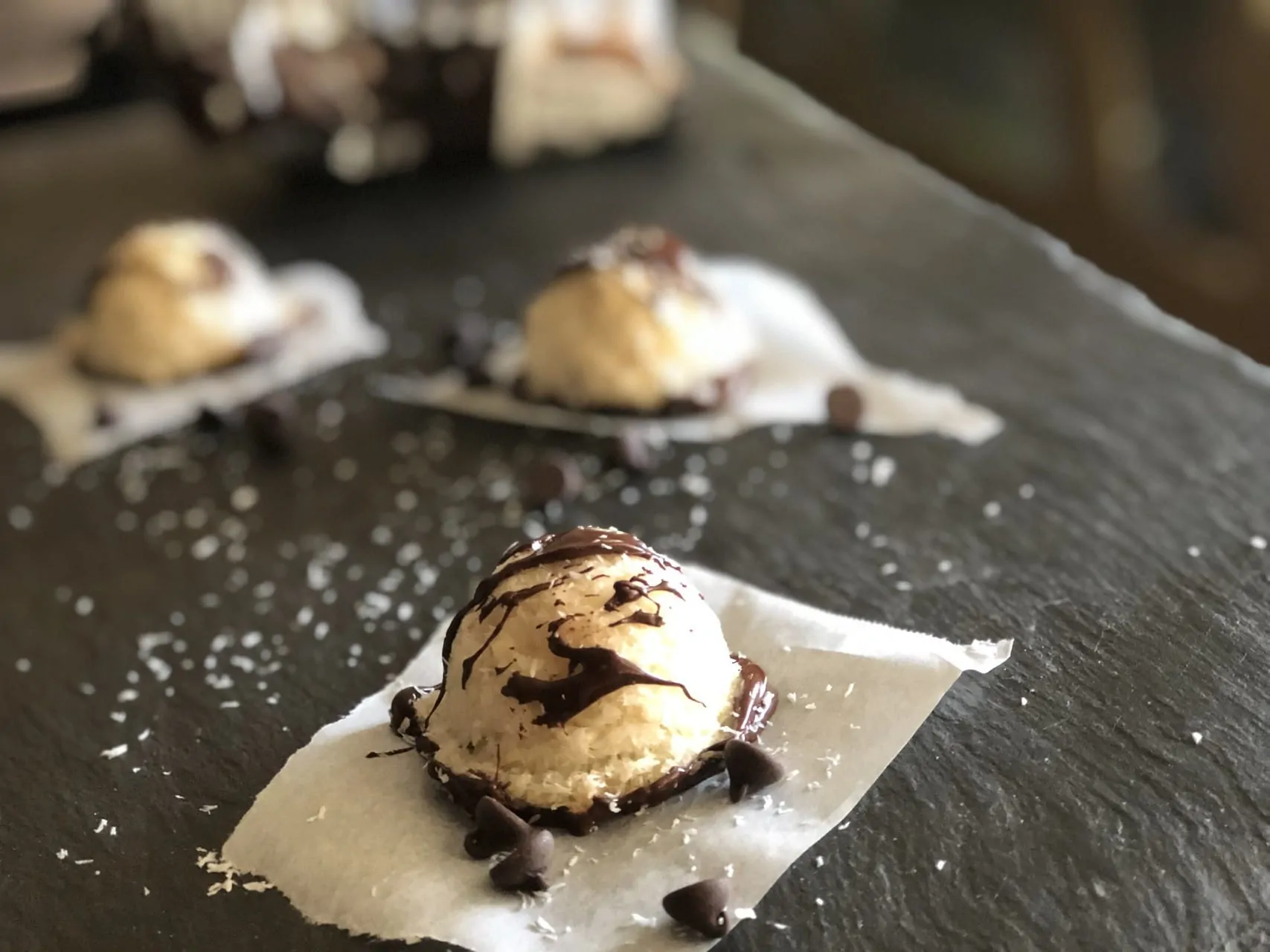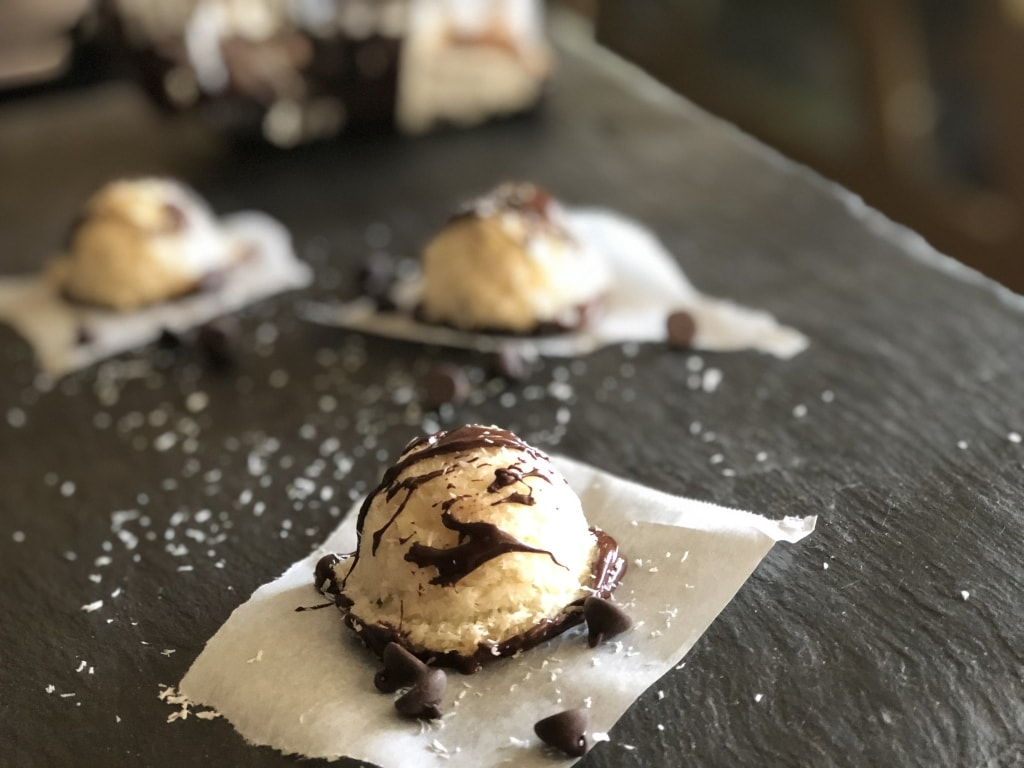 These cookies are part of the Bariatric Foodie 2019 No-Flour, Low-Sugar Cookie Collection. Click here to get back to the full collection!
So…I already have a coconut macaroon cookie recipe. But I saw this one and I could not resist!
I'd been meaning to re-photograph my macaroons anyway (I've progressed as a food blogger, ya see?) but my cookies were flat and these looked like pristine little snowballs, just begging to be eaten!
There was just ooooooooone little problem.
The source recipe calls for sweetened condensed milk.
Not sure about you guys, but that stuff would kill me! But the challenge of leaving it out was that the cookie could get dry without it. I tried several different swaps (including making sugar-free sweetened condensed milk, which is not as hard as you think!) but at the end of the day, what I found worked best was to use more good old fashioned butter! So…needless to say, between the coconut, the butter and the chocolate, this is not a low-fat cookie. But it's a tasty one. Play around with this recipe though, guys. See if you can find a way to yield an even more moist, chewy cookie.
In case you are interested, this cookie recipe is a cross between Ina Garten's recipe and this lower-carb version from Low Carb Yum. The main changes I made were to simplify where I could but also to cut the recipe down so it only yields a dozen or less cookies! I got about 11 cookies each time I've made this. 11. Not 12!
As it stands, this cookie tastes like an almond joy. I like it because you can take down the level of sweetener and still get a nice overall cookie flavor from the chocolate. I feel like the rollout cookies are like that too. Build-able sweetness, I call it. The cookie is lightly sweet, with another sweet element if you want it. Leave it off if you don't!
Recipe Notes
I used dessicated coconut for this recipe. I had no idea that was a thing before this recipe! I was in the store looking for unsweetened coconut (warning: you have to go to the likes of Whole Foods to get that sort of thing, or the internet) and at my local store, called Sprouts, they only had dessicated coconut. But it worked SO WELL! Omigosh! It's already ground up into little bits (not quite as fine as coconut flour) which makes the snowball thing come together even better.
You probably already know this, but it bears repeating. When doing anything with stiffened egg whites, you need to use a light hand! The ultimate texture of the cookie depends on you not deflating those egg whites. So slow and steady!
You'll notice in the inspiration recipe, the sweetener all comes from the condensed milk and the only thing that goes in the egg whites is a bit of salt. When I took the condensed milk out of the equation, it made more sense to me to add the sweetener to the egg whites since I was always taught to add "sugar" to wet ingredients. Do what feels right to you, Foodies.
Get the 2019 Cookie Collect free e-book!
Each year, with the cookie collection, I put out a free e-book of all the recipes for you to download! Fill out the form below to get it sent to you by email. You can also purchase all my cookie recipes in one handy book! Be sure to check that out as well. All purchases keep Bariatric Foodie (and the cookie recipes) flowing!
[convertkit form=1136032]
Preheat your oven to 325 degrees.

In a bowl with a whisk (I discourage this) or with a hand or stand mixer (my preferred method) whip egg white on medium speed. As it is about to froth, add the sweetener and then the salt slowly, and beat the egg white to stiff peaks. It should about double in volume.

Melt the butter in the microwave.

In a bowl, combine the unsweetened coconut, melted butter and vanilla extract and stir until full coated.

Finally, add egg white mixture to the bowl and gently fold mixture until full combined.

Spoon heapfuls of the coconut mixture onto a cookie sheet lined with parchment. Bake about 15 minutes or until they just start to brown. Cool the entire sheet on a baking rack. Do not remove cookies from the rack.

Microwave chocolate chips until melted (I find about 25 seconds works well, with 5 second additional increments, if needed).

Dip each cookie bottom in the chocolate and then return it to the parchment paper. Allow chocolate to cool and harden. (You can refrigerate if you like.)