~by Nikki


Today is my three year surgiversary.


Notice there aren't any exclamation points behind that sentence. Don't get me wrong. I am grateful every day for the changes my RNY has brought. I am such a different person now than I was three years ago and I continue to change and learn new things about myself each and every day.
This is a progression pic, before on the far left up until now on the far right
But here's the secret you learn in the 3rd year. This is life.
Yep…that might sound simplistic but it's the truth. This is life. This is the way it is. We, as WLS patients, continue to be just a little bit different than other people, yes, but not that much. We eat what we eat. We behave how we behave. We come in all shapes, sizes and personality types. No one person's process is the same as anyone else's.
At the OH Conference in Cincinnati 2010 (Thanks to Beth aka Melting Mama for taking the pic)
When I started this blog, it was because I felt like the way RNYers have to eat is so radically different and so I had to "help" people figure out their eating choices. Oh, how conceited is that!
Working the Audrey Hepburn look for Easter
In the last year especially, you all have taught me so much more about a healthy relationship with food than I ever could have learned any other way. I remember the first time I met Jen (also known as "the most awesome day ever"). She'd invited me and the girls up to her house in Jersey for the weekend. This was back when she wasn't completely sure she was all in this "Pouch Party™ thing."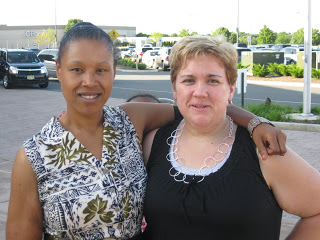 Nik and Jen Summer 2009
She took us to a classic NJ diner (meaning the menu is about five thousand pages long) and she orders…regular food. Like…not frankenfood. Not "please remove all carbs from my plate before it comes to me." But REAL food. And when they brought it to her, she ate what she wanted and sent the rest to be wrapped. I had to pick my jaw up off the floor. Jen and I are very, very different people.
In a lot of ways my love for cooking is actually a defense mechanism against overeating. Jen enjoys food for what it is and when she's full, she's full. When she's not hungry, she's not hungry. Many of you are like that too. You like what you like and you strive to make it a little bit better. But you don't think you should have to give up everything you like. And that's so true!
So my 3rd year was more about becoming "human" again. Yes, I still do my protein shakes every day (with shakes that yummy, it doesn't take much convincing). And I still log my food (although I don't freak about the occasional wayward carb). But this year I discovered that life is about so much more than food. Oddly enough…I discovered that while making food…for you and for all the people who attended Pouch Parties™ this year.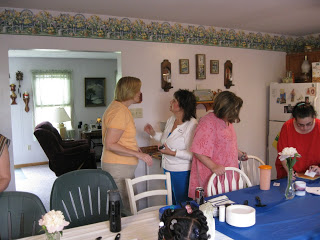 Debbie's Grillin and Chillin Pouch Party™ last summer
Basically, then, I have you to thank for the level of adjustedness I have right now. Everyday you guys continue to challenge me—here on the blog, on Facebook, ObesityHelp, support group and everywhere else.
Jen and I have said several times that we are calling this the "Year of the Pouch Party™ Animal." It's the truth! I fully expect that my 4th year post-op will be a crazy busy, eventful, educational, humbling and gratifying experience. And with you guys at my side, how can it not be?
Thanks for a great year!