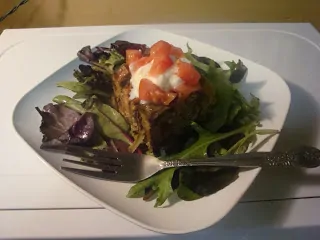 I am so happy! Besides the usual reasons, I am happy because I have FINALLY discovered a way that I can eat sweet potatoes.
Sweet potatoes and I have a turbulent post-op history. Indulge me a moment of recollection.
For the first year following surgery, sweet potatoes made me violently ill — as did all foods that were orange (yes, even my beloved baby carrots). I don't know why. I didn't ask why. The pouch was (is?) in charge and I obeyed.
Somewhere between that first year and the beginning of year three, my pouch and sweet potatoes became less adversary toward one another (I don't know when as I did not eat them in that time). BUT…I discovered a new and not-so-wonderful side effect: in the absence of protein, those suckers put me into a carb coma faster than any other food I have eaten post op! Sweet potatoes, in my system, are better than sleeping pills and alcohol combined.
Needless to say, I was about to give up on the prospect of ever having my favorite "healthier spud" again. That is, until I saw a sweet potato frittata in a magazine and decided to give it a go — Nik style of course!
Nik's Sweet Potato & Asparagus Egg Casserole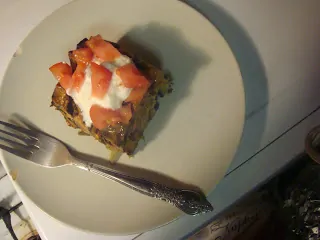 NOTE: I've been asked several times why I don't make these into "bites" or mini-muffins or even a regular frittata. The answer is simple. It works better for my household and plan to use a casserole dish. This recipe works as a frittata and as egg muffins. If you like them better that way, go for it! You know what I always say — play with your food!
Ingredients:
2 large sweet potatoes, peeled and diced
3 slices of bacon (I used pork)
1 bunch of asparagus (I actually used canned to save time but you can use fresh as well), cut into ¼ inch pieces
1 medium Vidalia onion, cut however you like (I used thin rings)
1 tbsp butter (Jen Stockinger, you will be proud. I have come to terms with actual butter)
4 eggs + 4 egg whites
½ c. unflavored Greek yogurt
Salt, Pepper
Directions:
Dice up bacon and fry it in a pan. Set aside the cooked bacon pieces.
Combine diced sweet potatoes and asparagus pieces in a bowl. Toss with salt, pepper and any seasonings you like then transfer to a baking sheet sprayed heavily with non-stick (no you don't have to coat them in oil for them to roast well). Bake at 375 for about 20 minutes, checking halfway through and flipping as necessary.
In a pan, melt butter and add onions and cook on a medium flame until very caramelized (browned). About 10 minutes or so.
In a separate bowl, combine whole eggs, egg whites and Greek yogurt. Whisk until well mixed.
In whatever vessel you will use to cook this thing, combined the sweet potato/asparagus mixture, bacon and onion well. Pour the eggs into that mixture and then mix to make sure eggs are incorporated throughout.
Cook in your (still) 375 oven for about 30 minutes or until set.
Allow to cool before cutting into pieces.
A few notes about this baby:
It's DENSE. One small slice and I was good to go.
The topper you see is simply unflavored Greek yogurt with some onion powder and a bit of salt mixed in. The casserole is fairly sweet so the topper makes a nice counterbalance.
No dumping! No violent reactions! No carb coma! WOOT!
I imagine this would be a nice dish to serve for a brunch. I think it's sort of rustic looking personally. Mine was especially so because I slightly overcooked my potatoes. I don't mind that as I have this thing for slightly burnt stuff.
At any rate…enjoy responsibly.