Saturdays are cooking days in my house. That's when most of the week's blog posts (if I have any) get cooked. I also like to make a nice breakfast or brunch.
Today I was in a bit of a bind though. The girls leave for Texas for the summer next week (they live with their dad during the summer) and I fly out to Haiti to do some videography work for my job. So I'm not stocking the kitchen until I get back. So that is to say, there isn't much in there!
I knew this morning I wanted a Mexican-themed frittata but I knew I didn't have all the ingredients called for in the Bariatric Foodie Breakfast Book recipe. So I played with my food!
While this post was not a review for the McCormick Perfect Pinch, it really did make this frittata. It's full of flavor and took it from plain to Mexican in just a few shakes!
I love the McCormick Perfect Pinch spices. It's like insta-food! All you have to do is add this Mexican spice to a dish and – voila! – it's Mexican! (Not really but that's what I like to tell myself.)
So far I've used this in chicken casseroles (throw some diced tomatoes, black beans, and chile peppers together, cover with cheese and it's baked yummy gooooodness!) and in variations of this frittata. It has never failed me. There are other Perfect Pinch flavors but I haven't used those yet. I'll report back when I do!
I like this shot but the kid in me always sees Pac-Man when I do this kind of shot of a cut frittata!
Folks often ask about reheating a frittata. That can be dicey for post-ops. My personal trick? When you are going to reheat your frittata in a microwave, place a wet paper towel on top of your plate then microwave as usual. That keeps the thing from hardening and the eggs from getting rubbery. Now some of us will always have problems with reheated eggs. Sigh. The struggle is real. If that's you…well…more for your family, I guess? I would like to point out that the Bariatric Foodie Breakfast Book has recipes for both family style and mini frittatas. So you can have a version that's JUST for you! (Seriously…it uses one egg…it's just for you!)
Sometimes I wish I could invite you guys over for a Saturday breakfast. I love weekend breakfast I think it's because I get to actually wait to be hungry instead of having to eat when time allows.
Foodies, breakfast does not need to be a challenge after WLS!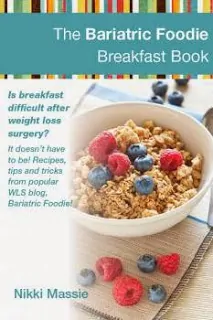 In the Bariatric Foodie Breakfast Book I've done the hard work for you. The book features single-serving recipes for things like eggs, frittatas, and protein pancakes, as well as make-ahead/grab-n-go breakfasts like protein baked oatmeal and protein muffins.
I'll also teach you how to amp up the protein in your favorite breakfast dishes, 11 creative ideas for cottage cheese, new ways to enjoy Greek yogurt (like cheesecake!) and lastly, I show you how to make an awesome "Un-Breakfast" (a dish that uses breakfast foods but doesn't feel like breakfast).
Check out the crave-worthy recipe pics on the Bariatric Foodie Breakfast Book board on Pinterest, then you can browse and buy the book on hard-copy or Kindle on Amazon – you won't be sorry you did!
Preheat oven to 350 degrees.

Spray an oven-safe skillet with non-stick cooking spray, set it over medium heat and allow it to get hot.

Add peppers, tomatoes, and onions and sautee 1-2 minutes, or until softened. Add black beans and spice.

Place baking powder in a bowl and pour a little of the egg into it. Beat that with a fork until it's incorporated, then add the rest of the egg (if you just add the baking powder to the egg it will clump).

Pour eggs onto cooking vegetable/bean mixture and spread it around until it resembles a big, flat egg pancake.

Gently stir inside the circle of eggs with a wooden spoon, but do not disturb the edges, you want them to set. Once edges set, top with cheese and place the entire skillet in the oven for about 10 minutes or until the top of the frittata is done and cheese is browned to your liking.