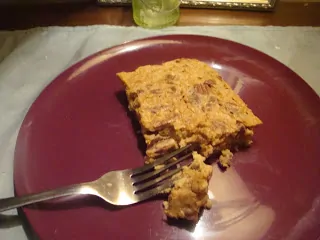 Have I ever mentioned how much I love the Amish? I do.On a Saturday afternoon I can be found at my local Amish market studying. Yes, studying. My local Amish market has all sorts of stalls (meats, cheeses, veggies) but my favorite is the dry goods section which is something like what a General Store might have been back in the day.
They carry nearly any raw ingredient you want (seriously…the last time we went there my kids were excited to find that they sell the cookies you use to make ice cream sandwiches and the cheesy powder you use to make cheese popcorn. I did not buy either, but it was there!).
One thing I've always loved that the Amish make is baked oatmeal. I do not know if the Amish invented it. I just know they were the ones who introduced me to it!
But for me, oatmeal is a breakfast where adding protein is imperative. I get "very special" blood sugar moments if I don't have a significant amount of protein at every meal, so usually when I want oatmeal I make
protein oatmeal
. That experience in hand, I decided to give the baked version a try!
Nik's Fall Harvest Protein Baked Oatmeal


Dry Ingredients
1 c. quick oats
1/8 tsp. salt (a generous pinch)
1 tsp. pumpkin pie spice
1/2 c. whatever chopped nuts you like (I used pecans but walnuts might be nice too)
Wet Ingredients
1 + 1/4 c. milk
1/2 c. canned pumpkin (not pumpkin pie filling)
1/4 c. sugar-free maple flavored pancake syrup
1/4 c. no-calorie sweetener
1 tsp. vanilla extract (or for this I used hazelnut extract)
1 egg beaten
Optional: I like raisins so I took 1/4 c. rinsed the sugar coating off in a colander and threw those babies in there too!
Directions:
Preheat your oven to 350 degrees.
In a bowl whisk together dry ingredients until well mixed.
In another bowl, combine milk, pumpkin, syrup and Splenda and whisk before adding beaten egg and whisking again.
Add wet ingredients to dry and stir until everything is mixed.
Spray down a small baking dish (mine is 8 x10) and pour mixture into it. Bake at 350 for 15-20 or until top is done and edges are slightly browned. It should come out looking like this: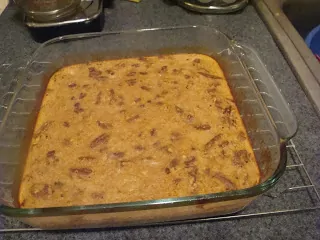 And if you have children, five minutes later it will look like this: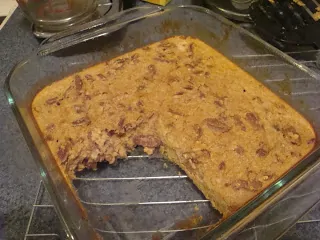 Enjoy!