It's no secret. I love eggs. I love them scrambled, hard boiled, fried, in a scramble, in an omelet. I like to make pretty egg flowers and egg casseroles and I like to make them angelic.
I love eggs. So much that there's a whole section of them in The Bariatric Foodie Breakfast Book!
But it's been a long time since I did anything different with an egg. This morning, I felt experimental and that's always a good thing. Part of my "food joy" comes from playing with my food and seeing what happens.
This is what yumminess happened the other morning.
Nik's "Egg-chilada"
(This is for one Nik-sized one. If you can't eat that much, I understand! See the tips in the recipe for scaling it down.)
Ingredients:
1 medium egg + 1 medium egg white (If you are newer out, just go with either one whole egg, two egg whites or 1/4 c. of liquid egg substitute)
Your favorite innards (I used 2 oz. deli rotisserie chicken meat that I sauteed, but other options are ground or shredded chicken meat, steak, etc. This is probably a good way to use leftover meat!)
2 tbsp your favorite salsa
2 tbsp. shredded Mexican blend cheese
2 tbsp unflavored Greek yogurt
Directions:
If you're using eggs, put them in the bowl, then spray a pan down with nonstick cooking spray and set it over medium heat. You want your pan nice and hot.
Meanwhile, beat your eggs well. If you are using a whole egg with whites, the entire mixture should be a pale yellow and be sort of the consistency of a loose cake batter. Do NOT beat them until they froth.
Pour out your egg onto your pan (I use a flat griddle pan) and allow it to naturally form a circle-esque blob of whatever size it wants to be. Now here's the important part…the part where most people go wrong…
Leave it alone for a minute or two! You want the edges nice and set before you do anything. I like to add a generous sprinkle of black pepper to the upside while it's setting. When it's all set, slide a spatula all the way to the middle of your egg "pancake" lift it up (don't worry if some egg pours off at this point) and then directly flip.
Cook on the other side for about two minutes or until done and transfer to a plate (or cutting board in my case).
Now comes the fun part. Technically you can fill an egg-chilada with whatever you want. The important thing to remember is to not overload it or it won't hold…and what fun is that? I used some sauteed lunch meat and half my cheese.
Load up one end of the egg pancake with your fillings and then roll it into an enchilada shape.
Top with salsa, remaining cheese and Greek yogurt and you are good to go!
This all sounds more complex than it is. The whole process takes about 5 minutes (aside from the meat sauteeing or reheating time, which is about another 3 minutes or so) and it's a yummy, yummy way to start any day!
EDITED TO ADD:
My pal Christina emailed me her egg-chilada pic. Hers is made of egg whites and has ground beef, Mexican cheese and salsa inside and a dollop of guacamole on top! Lookit! SO cute!
Then my friend Teddi emailed me the pics of her and her husband, Wulf's, egg-chiladas:
Teddi's has: eggbeaters, taco seasoned ground angus, cheese, taco hot sauce and plain greek yogurt.
Wulf's has: eggs, taco seasoned ground angus, cheese, onions, tomato, salsa and plain greek yogurt. YUMMY!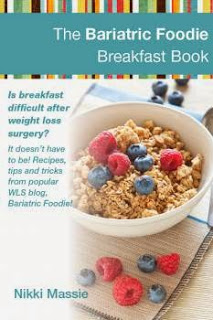 The Eggchilada is one of many WLS-friendly breakfast ideas featured in The Bariatric Foodie Breakfast Book!

You also get great recipes to amp up the protein in your oatmeal, low-carb/high protein baked breakfast goodies, new ways to use Greek yogurt and cottage cheese, and more!

Check out The Bariatric Foodie Breakfast Book on Amazon today!