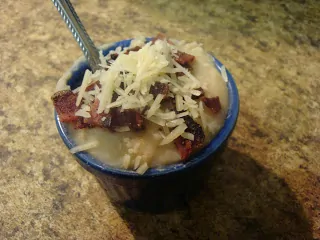 This soup is good.
No…this soup is DAMN good.
OMG. I have to get myself together just to give you the recipe.
So…potato soup. Oddly enough, I wasn't a big fan pre-op. I loved a nice, loaded baked potato but soup didn't really do much for me.
But I love this soup. I was inspired to make it by a friend who mentioned missing potato soup. I figured…since we already know that all carbs are not evil…why not?
I'm giving you this recipe in two forms: The "quickie" version (which yields just a few servings for those Foodies who live alone or simply travel alone on the path to good health) and the family style version, which is what yielded the beautiful ramekin you see above. It also fed the divas (who also loved the soup) for a few days. Winning!
Nik's Cheesy "Fauxtato" Soup
Quickie version
12 oz. can of any kind of white bean (cannelini or navy work well)
1 c. unflavored Greek Yogurt
1/2 c. low-sodium chicken broth
2 tsp garlic powder
(Optional: 1-2 scoops unflavored protein powder)
(We'll get to the cheese and the bacon in a moment…)
Directions:
Drain the beans of the canning liquid and put them in a pot. Add chicken broth and garlic powder set over a medium flame until it comes to a slow boil.
Add yogurt and protein powder (if using) and give it a stir. Then use an immersion blender to puree the whole thing. If you don't have one, place the mixture into your blender and blend on the puree setting.
Family Style version
15 oz. low-sodium chicken broth
1 whole clove garlic
1 small onion, quartered
1 lb. dry white beans (the soup picutured is made of navy beans)
1 c. water
1 c. unflavored Greek yogurt
Optional: 2-3 scoops of unflavored protein powder
(Yes..yes…I promise I have NOT forgotten the bacon and cheese!)
Directions:
Place chicken broth, garlic clove and onion in a pot over a medium flame and cook until it comes to a boil. Turn off heat, remove onion and garlic and put liquid in a crock pot.
Add beans and water and cook on low until beans are very tender (about 3 hours).
Drain excess liquid into a bowl but keep the beans in the crockpot. Add the Greek yogurt and protein powder (if using) and puree the soup with your immersion blender (or traditional blender). If it seems too thick, add liquid back in by the half-cupful until it is about the consistency of cooked oatmeal or grits.
Now…onto the fun part. The bacon and cheese!
Once your soup is done, ladel out your little portion. Add to it about an ounce of whatever cheese you like (you all will not be surprised to know I chose fresh grated Parmesan which, to me, is the king of all cheeses) and either 1 slice of bacon (pork, turkey, soy…your choice) or 1 tbsp real bacon bits.
FOR VEGETARIANS: This recipe can also work for you! Substitute veggie broth for chicken, imitation bacon bits for real and…well…I've never been completely sure what the deal is with vegetarians and cheese. Can someone please 'splain that to me?
One last note: I didn't have any extra Greek yogurt on hand, but if I did, this easily could have been a "Loaded Baked Faux-tato" Soup. Mmmmm… But that brings me to an important point. PLAY WITH YOUR FOOD! If you want brocolli/cheese…go for it! Or whatever you want. It really is up to you.
This soup is soooo good. It's Saturday. You have some time. Go get the stuff to make it!!!