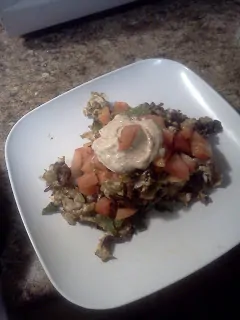 Cheese-steak…not cake. I get that a lot when I write that word!
Anyhoo…I love eggs! From my head down to my legs. 🙂 Ok, ok…that was cheesy.
If you can eat eggs, consider yourself blessed because many cannot post op. I personally don't know what I'd do if I couldn't. I CRAVE the things. But for me an egg is a sort of a tricky thing. It has good protein, yes, but when I look at how much protein it has and how long it keeps me filled (which is a decent amount of time) and compare that with my protein needs for the day, I know I gotta dress up my eggs to get what I need.
And that's what got me into doing scrambles. When I could only eat an itty-bit, my scrambles went something like this: one egg white + 2 oz. of some sort of meaty protein + a bit of cheese (usually via Laughing Cow Light or some such deal) and scramble.
Now that my pouch has graduated to being able to eat a halfway decent amount I get to have…veggies! YUM! My point here is take it at your own level. If you're new out, go with less egg (you can use liquid egg substitute if even one egg is too much) and less additions to the egg. If you're further out or have a heartier pouch, veggies are a great low-calorie, nutrient packed addition.
So without further adieu…
Nik's Cheesesteak Scramble
Ingredients
2 tbsp chopped onion
2 tbsp chopped green pepper
2 oz. lean, thin sliced deli roast beef, shredded
1 large egg (I use the whole egg nowadays), beaten
1 wedge Lauging Cow Light cheese (I used the French Onion kind)
Optional (pictured): diced tomatoes and a dollop of low-fat mayo mixed with some ground chipotle pepper.
Directions
In a sprayed pan, sautee chopped onion and green pepper until soft.
Add shredded beef and sautee until warm (I like it crispy but not all pouches are down for that).
And the egg and turn with a wooden spoon or spatula until egg is nearly done.
Plop (yes, plop) your cheese down on top and fold it into the egg mixture so that you get cheesy goodness throughout.
Transfer to a plate and top it as you wish.
This totally takes me back to the sub shop every time I eat it. And in this hot, HOT weather, it's nice to make something that feels like a good meal without having to turn the oven on or stand for long periods over the stove.
And if you liked this scramble, also check out my uber-yummy Southwestern Scramble.
Stay cool, my foodies! And stay hydrated in this heat!