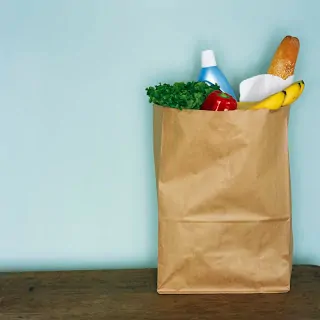 Well…maybe not THAT bag…

Ok, I'm just going to admit it. I have an affinity for Click Espresso Protein. I am not addicted, I don't think, as evidenced by the fact that I've been out of it for a few months and have not gone bonkers. Partly because of my beloved decaf mochaccino. But now I have a few bucks in my pocket so I'm ordering some more.
While I'm at it I figured I'd stock up on a few other items: PB2 (which I use for a variety of purposes), some of my favorite sugar-free syrups…and I'm looking to try some new stuff.
Here's what's in my basket now. Some of it is based on what you order through this site. If you have any other suggestions, let me know. Or if there's something you WANT to try but want a review first, feel free to suggest it in the comments, on Facebook, Twitter or e-mail me!
Nik's Bariatric Shopping List
Click – Mocha (I like vanilla latte but it's more of an "if I have extra money lying around" sort of thing)
PB2 (regular)
Davinci sugar-free Hazelnut and Peppermint Paddy syrups
Muscle Milk 'n Oats (someone orders a LOT of that through this site. 300 cals, 30g of protein…Me=intrigued…review to follow!)
Kay's Natural's Better Balance Pretzel Twists – Cinnamon Toast
Glenny's Soy Crisps – Creamy Ranch
Dixie Carb Counters Brownie Mix
I'm placing my order tomorrow before I leave work at 5 p.m. EST. If you have suggestions for me, please get them in before then. Help a sistah out!