So when I say "Pots de Creme" you may be thinking one of three things:
"Nik, you've gone bougie!"
"What the hell is a 'Pots de Creme?'"
"I am a chef/cook/French/food snob and I do not believe that this can be achieved."
Let's talk this out.
So #1 – yeah, I'll admit, it's sort of a bougie thing to say you  made something called "Pots de Creme." Although in reality I wave my bougie flag proudly. But if you understand what this dessert is, you'll understand why there's just nothing else to call it.
Let's consult our friend, Chef Google. "He" says…(btw am I the only one who assigns a "he" to Google? That's probably bad right? Moving on…)
"Pot de crème, plural pots de crème, is a loose French dessert custard dating to the 17th century. The name means "pot of custard" or "pot of creme", which also refers to the porcelain cups in which the dessert is served."
So it's sorta like pudding, but sorta not. It's sorta like cake, but sorta not. (Especially when you add protein to it.) So really there's nothing else you can call it.
Well…maybe there is. Which brings me to people who would say #3. I literally went by a traditional Pots de Creme recipe (which, by the way, is ridiculously simple to make) and lightened up the ingredients a bit. This version doesn't have quite the same texture as the original (owing to the absence of massive amounts of fat) but it does achieve that sort of "not a cake, not quite a pudding" vibe.
"It smells like brownies…" ~ La Grande Diva (Nik's oldest daughter)
When my divas saw this coming out of the oven they had a classic reaction to it. (Vocab key: LGD = La Grande Diva, my 16.5 year old. LPD = La Petite Diva, my 14 year-old)
LGD: What's that in the oven?
LPD: Not sure but it kinda smells good.
LGD: (Watching me extract it) It smells like brownies. (Voice instantly gets nicer.) Is it brownies, mom?
LPD: Yeah it does smell like brownies…
And that's exactly what the top of this thing resembles: a nicely cooked brownie. The inside is more like a baked mousse. But there are a few nuances of making this dessert with protein powder.
Protein powder, in general, bakes up firm.
Protein also bakes very fast! Please do heed my advice on how long to cook and when to start checking on it. Overcooked protein baked goods are depressing. Don't let it happen to you!
I left in some of the fat from the original recipe in the form of whole eggs (traditional recipes call for only egg yolks but I wanted the protein from the whites) and I also used 1% milk instead of skim. I did that because I know this recipe gets a lot of its indulgence from the texture created by combining the richness of fat with the bitter sweetness of chocolate. You may not want to make those same choices. Play with this recipe and figure out how YOU like it!
So without further adieu, here is the recipe! (Check out how ridiculously easy the prep is.) For the original version of this recipe, I used Syntrax Matrix Mint Cookie protein. Read my general review of the protein, then head on over to their website to check it out for yourself! Below, I tell you how to make it if you don't have that kind of protein.
Want even more holiday recipes?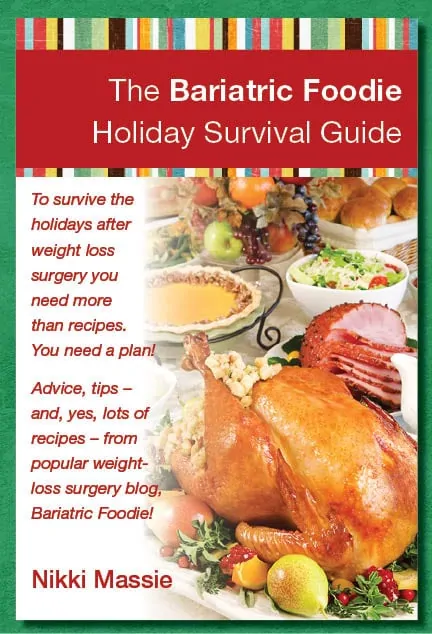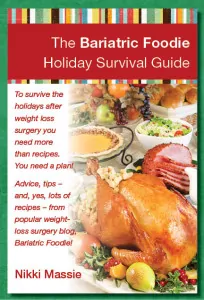 Check out the Bariatric Foodie Holiday Survival Guide! It features not only deliciously healthy spins on your favorite holiday dishes, but it also has tips on how to handle those inevitably awkward social situations (like…how to refuse Grandma's Famous ____ without hurting her feelings). Invest in your sanity this holiday season and get your copy today!
This is a protein-packed spin on an indulgent French dessert. This recipe yields just four little ramekins - enough to share with the ones you love!
Servings

Prep Time

4

ramekins

5

minutes
Servings

Prep Time

4

ramekins

5

minutes
This is a protein-packed spin on an indulgent French dessert. This recipe yields just four little ramekins - enough to share with the ones you love!

Servings

Prep Time

4

ramekins

5

minutes

Servings

Prep Time

4

ramekins

5

minutes
Preheat your oven to 325 degrees. Also put a pot or kettle of water on to boil.

Combine milk, protein, extract, cocoa powder, sweetener and vanilla in a blender until thoroughly combined (about 15-20 seconds). Add eggs and blend again.

Place four ramekins (the ones shown are 4 oz.) in a baking dish. Divide mixture evenly among four ramekins. Now place the baking dish onto the middle rack of your preheated oven.

Pour boiling water into baking dish until it reaches half-way up the sides of the ramekins. (I advise doing this after you've placed the baking dish on your oven rack so you don't slosh hot water on yourself!)

Bake for about 20 minutes, but start checking on it after about 10 minutes. The top will form a brownie like crust very quickly. When they are done they should still be a little jiggly when you shake the ramekin but the inside should not be liquid. If you bake them beyond the point of being jiggly that isn't really a big problem. The final texture is just more like fudge and less like a custard.